News & Events
Master Rahul Vellal's Charity Fundraiser for the Gift of Sight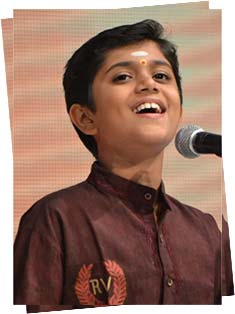 Sankara Nethralaya OM TRUST Inc., a fund-raising vehicle for Sankara Nethralaya, Chennai, organized a Charity Fund-raising Carnatic Classical music live-streamed concert featuring the young prodigy Master Rahul Vellal. The virtual concert streamed live on June 20th, 2020 at 10:30 AM EST USA, and 08 PM IST India.
We thank S. V. Acharya, President Emeritus; Bala Reddy Indurti, President; Moorthy Rekapalli, Vice President; Sudhakar Mattu, Secretary; Krishna Raj Bhat, Joint Secretary; Banumati Ramakrishnan, Treasurer; Sowmiya J. Narayanan, Joint Treasurer; and Leela Krishnamurthy, Trustee, the principal members of SN OM Trust Inc. USA. Their altruistic dedication to bringing vision to the poor and destitute in India is uncompensated and entirely voluntary. Without their selflessness and visionary drive to give back to the Motherland, this virtual fund-raiser would not have been possible.
Even though Sankara Nethralaya's charity fund-raising activities have been curtailed due to the Covid-19 lockdown, Master Rahul Vellal's virtual performance demonstrates how we can come together virtually to raise funds for our less fortunate fellow Indians who need the Gift of Sight.
The young and selfless prodigy was excited to be performing this philanthropic concert and even invited everyone via a short video. He was accompanied by Vaibhav Ramani on the violin, Sunaad Anoor on the khanjira, Vinod Shyam Anoor on the mridangam. The enthusiastic performance from this young child has served to highlight how much Sankara Nethralaya has been able to bring the plight of impoverished visually impaired Indians to the public's attention.
Our work is by no means done! Sankara Nethralaya is a not-for-profit eye hospital, which performs world-quality cataract operations for the poor in rural areas. We are yet to reach many inaccessible villages in the 35 Indian states with our Mobile Eye Surgical Units – not due to lack of enthusiasm but due to lack of resources!
The global pandemic has severely restricted many paying patients coming in for eye-checkups, treatments, and diagnoses. This means that even those poor people who depend on public transport throughout India have been unable to reach us for timely eye treatment & diagnosis. We urge you to consider the plight of helpless blind Indians who need high-quality care and whose only hope to save their eye-sight is Sankara Nethralaya.
Every little bit goes a long way in bringing the Gift of Sight to people who cannot afford expensive treatments.
Prestigious survey by leading international magazine rates SN among the "Best 4 Ophthalmic institutions in the World"!

It came as a global quality certification for an institution with such credentials as 'First ISO certified eye hospital in Asia', accredited by NABH, the highest quality certification for health care providers in the country, rated consecutively as 'Best Eye Hospital' by several prestigious national surveys, when 'Newsweek' the international weekly declared it as one among the 'Best 4 Ophthalmic institutions in the World for year-2020'. The survey was conducted between SeptemberNovember 2019. The evaluation included a survey of discharged patients, recommendations by thousands of experts including leading doctors, hospital managers and other health care professionals, some of the key parameters taken into consideration were patient experience, both in relation to a specific treatment undergone and overall feel and Medical KPI (Key performance Indicators) on critical areas like quality of treatment and hygiene levels. The jury consisted of a team of highly distinguished health care professionals from the world's leading research, academics and clinical care centers from a diverse background consisting of experts in IT usage in health care, outstanding clinicians, researchers, health reform champions, thought leaders, patient safety and engagement experts, pioneers in health care innovation and experts in operating non-profits. This gave the evaluation a holistic approach, taking all the above parameters into consideration.
The global acknowledgment making Sankara Nethralaya the only ophthalmic institution in India to be featured in the world's best league, comes as a matter of great pride to every member of the SN family and a befitting tribute to Dr SS.Badrinath, the visionary and pioneer who founded the institution 4 decades ago, on the 4 pillars of world class clinical care,focused research, quality teaching and training initiatives and community care and above all as a transparent, ethical institution run on the principles of love and service.
Past President of the SN OM Trust and her life partner in service honored as '20 Top Impact Makers'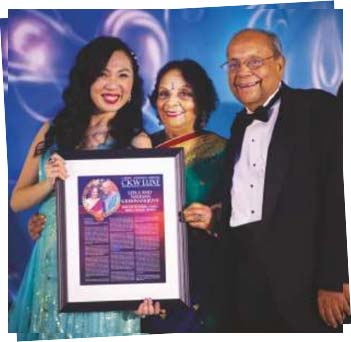 We take great pleasure and pride in sharing that Mrs Leela Krishnamurthy, Past President - SN OM Trust, Member UNICEF and Houston Habitat for Humanity and her husband Mr Nat Krishnamurthy, well known philanthropist and CEO of Sunitech were honored as 'Power Couple' and '20 Leading Impact Makers' for their significant giving back to society endeavors through their charity, combined effort and initiatives in serving humanity through alleviation of pain and bringing relief and joy to the suffering.
The Sankara Nethralaya family and the SN OM Trust where she serves as a member, convey their hearty congratulations to the noble couple and wish them many more years of good health, happiness and God's grace to do what they enjoy doing most 'Serving Humanity'
Amazing local talent matches virtuoso performance to make music the language of love!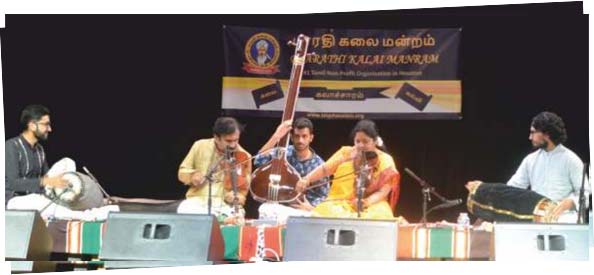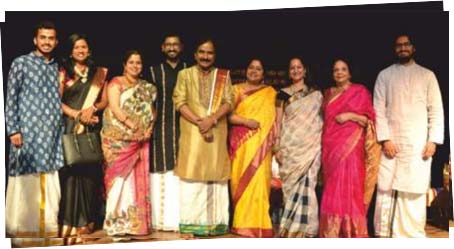 Sankara Nethralaya OM Trust's Houston chapter and Bharathi Kalai Manram, (BKM- Houston), its long time partner in service came together once again to present a scintillating year end(2019) fundraiser concert by none other than the renowned Lalgudi violin duet of Sri Lalgudi GJR Krishnan and Smt Lalgudi Vijayalakshmi. The concert was a soulful journey through a wide variety of ragas and compositions, with highlights including Mamava Meenakshi in Varali, Sogasuga Mridangam Talamu in Sriranjani and Saint Thyagaraja's masterpiece O Rangasayee in Kambhoji. They were accompanied on double mridangam by Sri Akshay Anantapadmanabhan and Sri Rohan Krishnamurthy. It was inspiring to see the young mridangists, brought up in the USA, performing on par with the senior violinists to make it a truly memorable concert. The concert helped in creating awareness on Sankara Nethralaya's yeoman service to the indigent vision impaired and the major role in its endeavors played by the SN OM Trust, its awareness creation and support mobilization arm in the US. Sankara Nethralaya thanks the BKM and the volunteers for organizing the wonderful concert and rasikas for attending the event in good numbers and supporting the cause.
Sankara Nethralaya Seattle Chapter raises 25K with Microsoft Give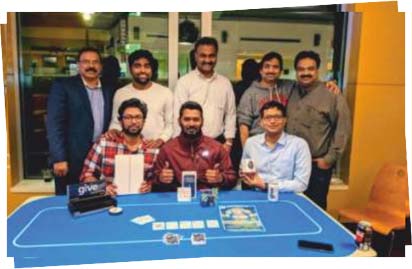 During the Month of October Microsoft celebrates Giving Campaign. In this noble cause almost all the employees of Microsoft donate in various ways to support 1000's of non-profit organizations across the globe. Giving Campaign is done across all parts of the globe and their respective possible ways.Microsoft matches 100% of the donation and also volunteer hours during this month to promote philanthropy across the organization. This Year (2019) Sankara Nethralaya debuted as a part of this festival of giving. Volunteers inside and outside Microsoft came together in this noble cause to generate donations through a Poker Event conducted across this month. With Microsoft Matching and volunteer hours from the Microsoft Full-timers the event was able to Generate close to 25K which will in turn lead to close to 380 surgeries for patients with curable blindness. Sankara Nethralaya Seattle-Washington trustees Vishwanath Manchikalapati & JayaKiran Pagadala ex-Microsoft employees joined hands with Soma Jagadeesh, Madhu Babu Mallidi (Current Volunteers) and other volunteers to successfully conduct this Event. Bala Reddy Indurti (President) flew in from Atlanta to grace this event and support in all possible ways.