News & Events
Benefit concert by Natyalaya School of Dance
The Seonee hills came alive at the Georgetown Center Auditorium, Austin, Texas, US, as Mowgli and his friends from the animal kingdom recounted one of the most loved tales of the century in a brilliantly-choreographed dance drama by the Natyalaya School of Dance.
Children were at their artistic best, as they took the audience in an enchanting journey of Rudyard Kipling's famed 'Jungle Book.' The performance, a benefit concert for Sankara Nethralaya, was attended by around 300 people. The remarkable efforts by Ms. Vinitha Subramanian & the 24 children from the Natyalaya School of Dance were showcased in every act.
For their incredible enthusiasm in participating in the benefit concert and supporting Nethralaya's cause, the children were presented with plaques of honor by Sankara Nethralaya and Sankara Nethralaya Ophthalmic Mission Trust.
Sankara Nethralaya Ophthalmic Mission Trust, Inc., a registered non-profit organization in the United States of America, was established in 1988 with the sole purpose of supporting Sankara Nethralaya, a charitable, not-for-profit ophthalmic hospital, in Chennai, India. Every year SN OM Trust, with the support from society at large, raises funds for Sankara Nethralaya by conducting various events.
Sankara Nethralaya, Rameswaram, to offer free treatment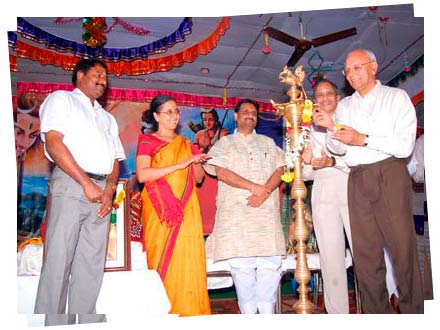 Continuing with the Nethralaya philosophy of community service, Sankara Nethralaya, Rameswaram began offering free services to indigent patients from December 1, 2009.
Rededicating the services, at a function on December 7, 2009 at Rameswaram, Mr. TN Hariharan, District Collector, Ramanathapuram, assured all help to Sankara Nethralaya in creating more awareness about ophthalmic care in Rameswaram and surrounding areas.
Welcoming Sankara Nethralaya's initiative in providing free services at its Rameswaram branch, Ms. Girija Vaidyanathan, Mission Director, National Rural Health Mission, urged for such quality and affordable ophthalmic services to be spread across the district.
Sankara Nethralaya Chairman Mr. V Vaidyanathan briefed the gathering on Sankara Nethralaya and the various activities undertaken by the institute. He laid emphasis on the institute's pillars — patient care, community services, research, teaching & training — which has made Sankara Nethralaya one of the leading eye hospitals in the country.
Sankara Nethralaya at Rameswaram commenced its services — paying-cum-free —in 2007. Keeping in mind the local needs, the hospital decided to rededicate its services as purely community based, thereby offering eye care services free-of-cost, from December 2009.
The hospital also proposes to step up its teleophthalmology services in the district, in a phased manner. In the initial phase, along with the assistance of social workers from the MS Swaminathan Research Foundation, a team consisting of optometrists and an ophthalmologist will conduct eye camps thrice a week. Surgeries too will be performed thrice a week.
Residents attending the camp will undergo a comprehensive eye examination. Those who are prescribed glasses will be provided with one at the campsite. Patients who are recommended for cataract surgery will be taken by the Sankara Nethralaya team to the the main hospital at Rameswaram where a free-of-cost cataract surgery, using intraocular lens, will be performed on them. The boarding, transport and food for patients will be borne by Sankara Nethralaya, Rameswaram.
'Social Enterprise of the Year'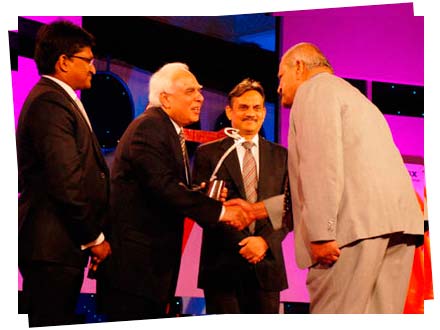 Union Minister for Human Resource Development Shri. Kapil Sibal (center) presents the 'Social Enterprise of the year' award to Sankara Nethralaya's Chairman Emeritus Dr. SS Badrinath in New Delhi on December 03, 2009.
Sankara Nethralaya has been awarded the 'Social Enterprise of the Year' at the 5th CNBC-TV18 India Business Leader Awards. Dr. SS Badrinath, Chairman Emeritus, Sankara Nethralaya, accepted the award on behalf of the institute at a glittering ceremony held in New Delhi on December 3, 2009.
The award is presented to an NGO/CSR initiative that has shown uniqueness in the kind of outreach program it has adopted or in adapting a commercial business model for the purpose of social good & community welfare or in the sheer impact its work has had.
Present on the occasion were Kapil Sibal, Honourable Minister for Human Resource Development, Praful Patel, Minister of State-Civil Aviation and Nandan Nilekani, Head, Unique Identification Database project.
The CNBC-TV18 India Business Leader Awards honoured stalwarts of India Inc., who have emerged as legends in business leadership. The India Business Leader Awards are the most distinguished awards for excellence in leadership in Asia.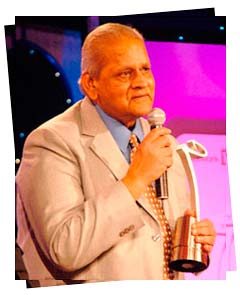 The winners were judged by eminent personalities like Mr. Deepak Parekh, Chairman, HDFC, Mr. Mukesh Ambani, Reliance Industries Ltd. Mr. Kumar Mangalam Birla, Chairman, Aditya Birla Group, Mr. Uday Kotak, and Mr. Raghav Bahl, Founder Editor, Network18.
Lifetime Achievement Award for Dr. Badrinath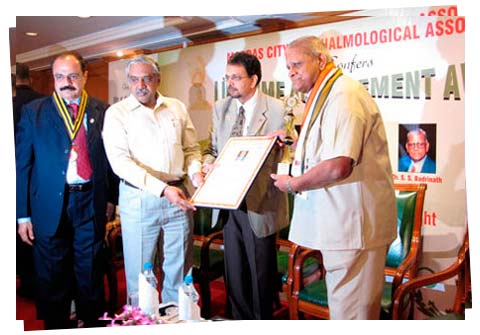 For his outstanding contributions in the field of Ophthalmology, Sankara Nethralaya's Chairman Emeritus, Dr. SS Badrinath, was conferred with the Lifetime Achievement Award by the Madras City Ophthalmological Association (MCOA) on November 29, 2009 at a function in Chennai.
The Lifetime Achievement Award was also given to two other renowned ophthalmic doctors — Dr. ET Selvam and (late) Dr. J Agarwal.
Attributing the success of Sankara Nethralaya to the team work of its doctors and staff, Dr. Badrinath urged ophthalmologists to adopt the concept of group practice promoted by Sankara Nethralaya.
All-India Ophthalmological Society President Babu Rajendran lauded the contributions of the ophthalmologists and described them as the 'Holy Trinity' of ophthalmology.
The Hindu
https://www.hindu.com/2009/11/30/stories/2009113053900400.htm
Awareness talks on Sankara Nethralaya Held in the US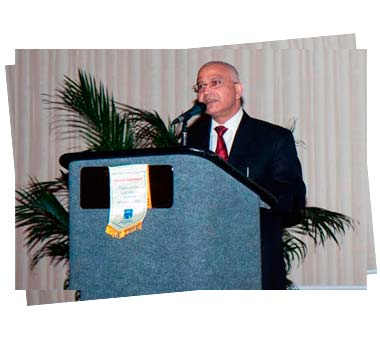 In a bid to make people aware of the various activities and initiatives undertaken by Sankara Nethralaya and to mobilize support for the hospital's community programmes, Sankara Nethralaya's Fundraising Director, Dr. Tarun Sharma, held a series of awareness talks on Sankara Nethralaya across several cities in the US during his month-long visit to the country in October 2009.
Apart from meeting eminent people from the Indo-American community, including Dr. Sudhir Parikh and Dr. Narsing Rao, Dr. Sharma also addressed a gathering of about 250 people, at the CK Prahalad management power lecture on October 14, 2009 at Dallas, on the genesis and growth of Sankara Nethralaya. The awareness talks were held at San Francisco, Los Angeles, Washington DC, Dallas, Rochester, New York. Dr. Tarun Sharma visited the reading centre at Madison, Wisconsin, where he met Dr. Ronald Danis and his team. He also participated at the American Academy of Ophthalmology (AAO) conference where he had the opportunity to meet Ms. Jane Aguirre, VP, Global Alliances, and one of the officials of AAO to explore the ways in which Sankara Nethralaya could collaborate with the AAO.
"An Eye Opener": Giving the gift of seeing
Awareness event in fremont, california.
Sankara Nethralaya-Kolkata completes 1,000 free cataract surgeries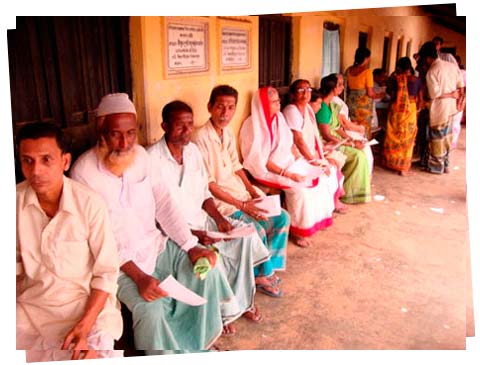 When the rural teleophthalmology project was inaugurated in West Bengal on January 23, 2009 by Governor Shri. Gopalkrishna Gandhi, there was a magnanimous gesture made on the occasion to benefit the rural poor of West Bengal. Bellary Iron Ores Pvt. Ltd Managing Director Shri. S.K. Modi, well-wisher of Sankara Nethralaya, committed to sponsor 1,000 cataract surgeries which were to be completed in a year's time.
In the months to follow, Sankara Nethralaya-Kolkata slowly and steadily took its eye care services to the doorsteps of the rural poor. Sankara Nethralaya-Kolkata, until October, has been able to conduct 48 eye camps, examining close to 7,000 patients, in various districts of the State. In November 2009, Sankara Nethralaya-Kolkata was able to complete the 1,000 cataract surgeries which Shri. Modi had so graciously sponsored. A combined effort by our ophthalmologists, optometrists and other teleophthalmology staff at Kolkata has ensured that the target surgeries have been completed in under a year's time. Patients who underwent the free cataract surgeries were brought from several districts of the State, including Midinipore, Burdwan, Hooghly, North Parganas, Sunderban etc.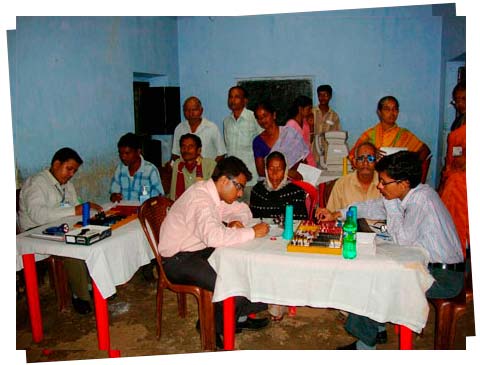 Eye camps by Sankara Nethralaya-Kolkata include conducting a free comprehensive eye examination, screening patients for cataract and providing spectacles at the campsite. A team of four-five optometrists, along with a fellow consultant and a mobile refraction van which provides spectacles, visit nearby villages on weekends for the benefit of the rural poor.
Honouring the spirit of volunteerism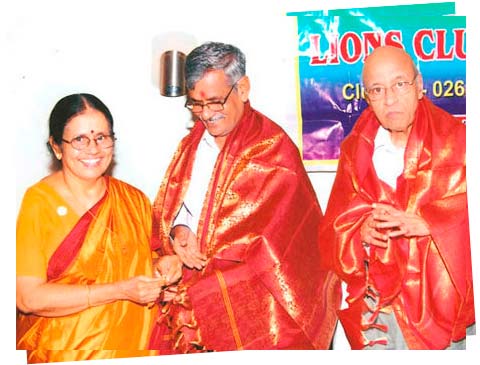 Lion Dr. K.S. Lakshmi, immediate past district governor, presents the awards to Lion S.N. Hari Narayanan and Lion G.V. Raman
Lion G.V. Raman, past district governor, and Lion S.N. Hari Narayanan, past president, were felicitated, on November 12, 2009, by Lions Club of Central Madras for receiving the 'Friend of Humanity Award' and the 'Helping Hands Award' from the Lions Club International Foundation.
Lion R. Ravindran, president of the Lions Club, Central Madras, welcomed the gathering and explained the significance and uniqueness of the awards.
Lion Dr. K.S. Lakshmi, immediate past district governor, presented the awards to Lion G.V. Raman and Lion S.N. Hari Narayanan in the presence of family and friends at Chennai on the occasion.
Chairman Emeritus Sankara Nethralaya, Dr. S.S. Badrinath, spoke highly of their contributions to Sankara Nethralaya. Describing the two as the "eyes of Sankara Nethralaya," Dr. Badrinath said, "by honouring you, Lions Club Foundation has also honoured us [Sankara Nethralaya]."
Lion Dr. A. Paneerselvam, Lion Dr. C.V. Ananthasayanam, Lion S. Raghavan, Lion K. Natchimuthu and Lion D. Rajagopalan also felicitated the awardees on a richly-deserved honour.
Lions Club, Central Madras, donated Rs. 30,000 towards the Amarthithi scheme to the Medical Research Foundation.
Lion Andal Rajaram proposed the vote of thanks.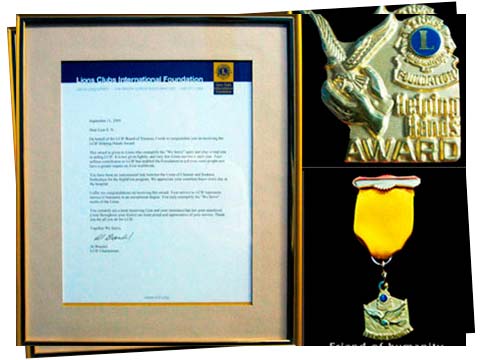 The appreciation letter, signed by LCIF Chairman, Lion Al Brandel along with the Helping Hands Award (top) and the Friend of Humanity Award (above) medals.
What is the Friend of Humanity Award?
The LCIF Friend of Humanity Award recognizes Lions who have provided exceptional and longstanding service to LCIF through fundraising or publicity, no more than 50 annually.
What is the LCIF Helping Hands Award?
The LCIF Helping Hands Award recognizes Lions who promote greater awareness of and support for LCIF at the club, region, district or multiple district level or through the media.
'Best Eye Hospital' in India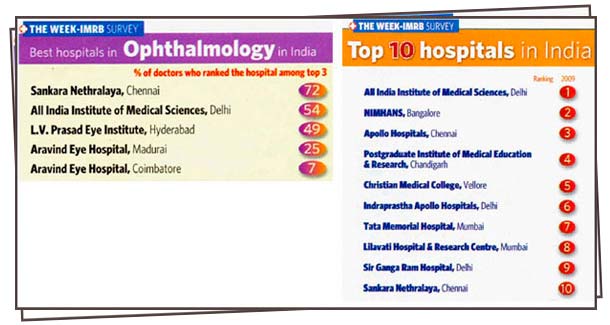 Sankara Nethralaya has been recognized, yet again, as the country's best ophthalmic hospital according to the recent Week-IMRB survey. The survey also rated Sankara Nethralaya as one of the ten best hospitals in the country. The 14-city survey was conducted among 704 specialists across 10 specializations and 486 general practitioners.
Management power lecture, Prof. CK Prahalad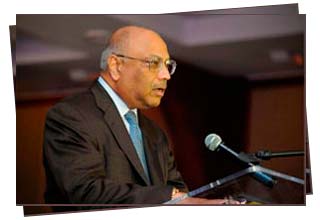 The key strategies required to build organizational capabilities and the importance of accessing global resources to co-create unique experiences with customers formed the crux of the management power lecture by Prof. CK Prahalad in Dallas, US, on October 14, 2009.
Prof. CK Prahalad was at his eloquent best as corporate executives listened with rapt attention while the management guru delivered the "New Age of Innovation: Driving Co-Created Value Through Global Networks" lecture in benefit of Sankara Nethralaya, Chennai.
The event which saw 250 people, including senior corporate executives, management professors, and students, attending, was organized by Sankara Nethralaya, Sankara Nethralaya OM Trust, US, and the Greater Dallas Indo-American Chamber of Commerce (GDIACC).
Earlier on, Director, Fund Raising, Sankara Nethralaya, Dr. Tarun Sharma made a presentation on Sankara Nethralaya and highlighted its achievements and activities, including the community ophthalmology programs and the state-of-the-art medical research facilities.
Sankara Nethralaya Alumni Dr. Arvind Neelakantan, a practicising Glaucomatologist in Dallas, while praising the institution for its Ophthalmology training and focus on Community Ophthalmology Programs, urged the gathering to donate to SN OM Trust and thereby support Sankara Nethralaya in its fight against blindness. Prof. Prahalad, too, spoke highly of Sankara Nethralaya.
On behalf of Sankara Nethralaya, Dr. Tarun Sharma presented Prof. CK Prahalad, Mr. Harry Iyer, president, Greater Dallas Indo-American Chamber of Commerce, and Ms. Shabnam Modgil, FunAsia, with a plaque of Honor for their contributions and for supporting Sankara Nethralaya's mission for vision.
The programme was followed by a Q&A and a book-signing session by Prof. Prahalad.
CFC recognition for Sankara Nethralaya Ophthalmic Mission Trust
Sankara Nethralaya Ophthalmic Mission Trust (SN OMT) Inc, a fund raising organization in the US that supports Sankara Nethralaya, has been recognized, yet again, as an eligible organisation to receive contributions under the Combined Federal Campaign or CFC.
What is CFC ?
CFC is a program under which US federal government employees are encouraged to donate through payroll deduction a certain portion of their salary for a designated non profit organization. Millions of dollars are collected and distributed for worthy causes around the world every year.
How you can help ?
If you are a US federal government employee please designate Sankara Nethralaya OM Trust (No. 68803) as your chosen charity organization for your contributions. If you are not an employee, but know of one, kindly motivate them to designate SN OMT as their chosen charity organization.
For further information on the CFC program, please contact
Mr. SV Acharya
E-mail: acharya@snomtrust.org

Srinivasa Sankara Nethralaya opens in Tirupati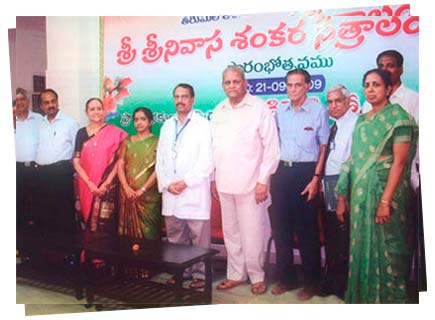 Sankara Nethralaya, in collaboration with the Thirumala Tirupati Devasthanam, opened the Srinivasa Sankara Nethralaya in Tirupati on September 21, 2009. Inaugurated by Chief Minister K. Rosaiah, the state-of-the art hospital will not only benefit visiting pilgrims but also provide ophthalmic care to indigent patients from Rayalaseema and other parts of the State.
In its first phase, the hospital will be able to treat around 16,000 patients and perform nearly 6, 500 cataract surgeries. The Andhra Pradesh Chief Minister urged philanthropists to come forward and contribute towards helping the institute serve the poor. Ajay Modi, a Delhi-based philanthropist and former local legislator M. Venkatramana jointly contributed Rs.50 lakh to the hospital; Ashok Rathi, a Chennai-based industrialist, has also donated Rs.50 lakh to the institute.
The TTD, along with the Elite School of Optometry, provides a free comprehensive eye camp to the public, especially the visually handicapped people, on the second Sunday of every month in Chennai.
https://www.hindu.com/2009/09/22/stories/2009092250960200.htm
Screening & Counselling for Senior Citizens at Navasuja Sankara Nethralaya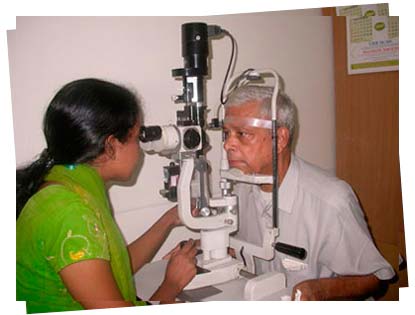 To commemorate World Elders' Day (October 1), Navasuja Sankara Nethralaya a free screening and counseling camp for 137 persons on September 20, 2009. Out of the total screened, 125 persons needed further medical treatment.
People who registered were screened for distance & near Vision. Apart from checking the eye pressure, a Slit lamp Examination was also conducted. People were made aware of their eye conditions and were given tips one eye care.
Sankara Nethralaya-Chennai Petroleum Corporation Limited, Manali eye camp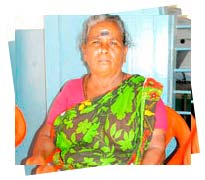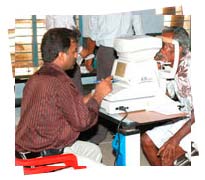 As a corporate social responsibility, the Chennai Petroleum Corporation Limited has donated Rs. 10,00,000 to Sankara Nethralaya to serve people in the villages surrounding Manali, where the company is located. The first in the series of eye camps was held at the government primary school at Manali on June 20, 2009. This was followed by three other camps, one at Chinnasekkadu on July 18, 2009, a second at Mathur on August 29, 2009 and another at Periyachekadu on September 20, 2009. There was an overwhelming response by residents for the comprehensive eye screening conducted at the camps and the cataract surgeries which were performed free-of-cost.
| A Camps | Patients screened | Cataract surgeries |
| --- | --- | --- |
| First | 305 | 14 |
| Second | 151 | 14 |
| Third | 165 | 11 |
| Fourth | 142 | 16 |
A day at the camp site
An average day for Sarojama begins at 4 a.m.; her daily chores are followed by a 45-minute drive to Kasimedu to buy fish — her only source of income. Back at Manali, Sarojama joins her fellow vendors as they begin their sales for the day. Sitting on the roadside has meant that the 57-year-old widow is constantly exposed to the sun and dust. "By the time I go home my eyes are burning and I often experience an irritation-like feeling," she says.
Off late, her eyes have been a cause of concern; she is unable to see far off things, identifying the number board of an approaching bus is no longer as easy as it sounds. She is one among the many who came to the Sankara Nethralaya-CPCL (Chennai Petroleum Corporation Limited) eye camp, held at Manali on June 20, 2009, in the hope of finding a solution to her eye care woes. Sankara Nethralaya's teleophthalmology department conducted a detailed eye screening for 305 patients at the day-long free eye camp and helped diagnose various eye ailments including cataract and other ocular diseases. For someone whose sustenance wholly depends on the number of fish she sells a day, coming to the camp also meant forgoing a day's earning. "I could not miss this chance. I can't afford to go to a hospital, neither do I have the money nor the time," she says matter-of-factly.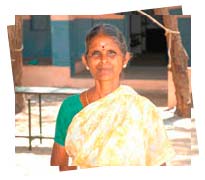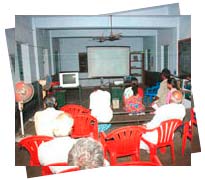 Manoranjitham agrees. "We are lucky that our eyes are being examined for free, not all can afford going to a hospital and paying for the treatment," says the 46-year-old attender at the Manali government school. She too, like Sarojama, has been complaining of a burning sensation in the eye, and difficulty in seeing.
Both of them represent a significant percentage of people who are the sole breadwinners for their family at Manali.
Sarojama is childless and Manoranjitham's son and daughter are leading their own lives elsewhere, leaving Manoranjitham and her husband to fend for themselves. Her husband is unemployed and her meagre earnings of Rs. 500 per month, out of which Rs. 200 goes in paying the rent for the house, is all she has to make both ends meet.
While a detailed eye check up at the camp has indicated the need for both of them to undergo cataract, it's not a case of urgency as they had been diagnosed with immature cataract. Both of them were prescribed glasses, which optometrists said should take care of their eye care worries for the time being. Being the sole breadwinners, they both expressed their desire to be operated a little latter. The cataract surgery with intra ocular lens implantation will be performed free-of-cost soon.
So how does a typical eye camp function in helping people like Sarojama and Manoranjitham?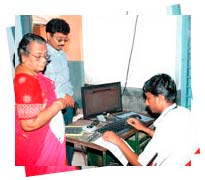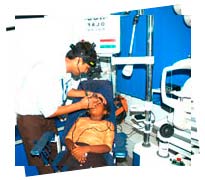 The first step involves filling in the personal details in the registration form, following which the patients undergo a basic eye screening test, where an 'E' chart, adhering to the WHO approved norms, helps test vision clarity. This screening serves as a filter to identify those who need a more detailed check up and those whose don't.
The second level of detailed eye examination includes noting patient details in the Electronic Medical Records. Here, a more comprehensive diagnosis is done for cataract, refractive error, glaucoma and other eye ailments. The patients are either recommended for surgery, or are prescribed glasses.
For complex cases where further consultation is required, a teleconsultation is set up with experts at the Sankara Nethralaya hospital in Chennai through the mobile rural teleopthalmology van, stationed at the camp, using satellite connectivity (VSAT) with the help of the Indian Space Research Organisation. Based on the teleconsultation with the senior ophthalmologist, the patient is prescribed further treatment.
If a patient is recommended for surgery then he/she is guided to the next level of examination, where a blood test is conducted to determine BP and blood sugar levels of the patient. Following this, the patient is given a pre-surgery counselling by the ophthalmologist wherein they are told about the impending surgery that will be performed free-of-cost on indigent patients. In fact, patients who are recommended for surgery are brought to SN the very same day and an operation is performed on the next day.Patients who had problems other than cataract were referred to JCOC, the community wing of SN, where indigent patients are treated free of cost.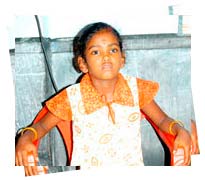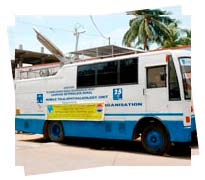 A key component of the eye camp is conducting an eye-awareness programme where patients are educated through a video presentation on eye care.
People like Sarojama, are not the only ones who visit the camp, there is 14-year-old Linda who mistook her eye irritation symptoms to the need for wearing glasses only to be told at the camp that her vision was perfect!
Three-year-old Akash was not that lucky. After a lot of cajoling that went in to getting the tiny tot sit still while the optometrist checked his eyes, the news was grim. Akash has myopic error of -9 and -7 in his eyes. Coming from a poor family, a visit to a free eye camp like this ensures that all hope is not lost for people like Akash. He will soon be wearing glasses prescribed for him. Akash's case highlights the importance of screening school children for refractive errors, which may adversely affect a child's academic performance.
For 70-year-old Amsa, a widow from Nagapattinam, the case was no different. Having been abandoned by her 2 sons and 5 daughters, Amsa depends on the goodwill of her relatives for her survival. On a visit to Manali, she was brought to the camp by a relative. An examination of her eye revealed the need for a cataract surgery. She was taken to SN where a free-of-cost surgery was performed on her. For residents of Manali, the camp answered their many unanswered questions. A teleophthalmology camp like this one, through support from organisations like CPCL, showcases how technology can be brought to the doorstep of every poor personand how the availability of quality medical care to indigent patients,often an impossible option, can be made possible!
Donor visits Sankara Nethralaya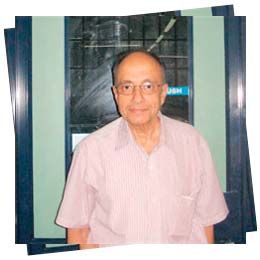 Sankara Nethralaya donor and well-wisher Mr. Ramaswamy, Virginia, US, visited Sankara Nethralaya on September 17, 2009.
Clinton Foundation officials visit Sankara Nethralaya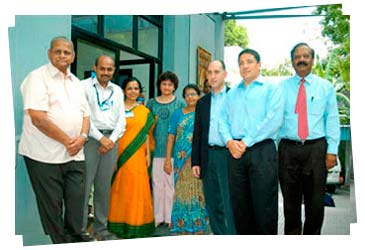 Scott Taitel and Carlos Fernandez from the William J. Clinton Foundation, New York, visited Sankara Nethralaya on July 23, 2009. Mr. Taitel, who is Director Operations, and Mr. Fernandez, who is CEO of the Clinton Giustra Sustainable Growth Initiative also visited JCOC to know more about the hospital's efforts in providing quality eye care treatment to indigent patients.
Mr. Taitel and Mr. Fernandez were briefed on the various initiatives and activities undertaken by the hospital. A video presentation on the hospital's teleophthalmology services was also shown to the two.
The Clinton Giustra Sustainable Growth Initiative recently launched a cataract project in Peru, under which 50,000 cataract surgeries will be performed on the country's indigent population over the next four years. The visit was to accustom the team on the medical practices that they could incorporate in their programme.
A celebration, with a difference!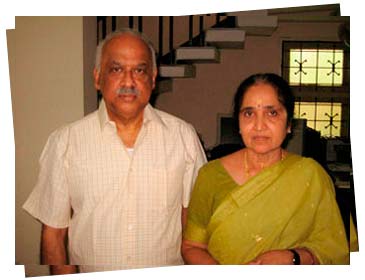 On July 14, 2009 Dr. T. Janardhana Rao celebrated his 70th birthday. The special occasion was marked by a rather special gesture. As a well-wisher of Sankara Nethralaya, Dr. Rao requested his friends and well-wishers to celebrate the occasion by supporting Sankara Nethralaya. And so, the 200 odd guests who attended the event in Melbourne, Australia, where Dr. Rao resides, showed their love and affection for Dr. Rao by making generous contributions to Sankara Nethralaya; nearly Rs. 5 lakhs was raised for the hospital through this act of kindness.
This is neither the first time that Dr. Rao has contributed to Nethralaya nor is it his first tryst with philanthropic activities. Having resided in Melbourne for over 40 years now, Dr. Rao has diligently worked towards the welfare of the Indian community in Australia. His efforts in this regard led to the former Prime Minister Indira Gandhi making him the Honorary Consul and 20 years later he was made Honorary Consul General. His bond with Sankara Nethralaya goes beyond the institute; a classmate of Chairman Emeritus Dr. S.S. Badrinath at the Madras Medical College, Dr. Rao attributes the achievements of the hospital to its dedicated team of doctors and staff led under the able guidance of the "visionary" Dr. Badrinath. "It's not easy to achieve what Dr. Badrinath and Sankara Nethralaya have in the last 30 years," he asserts. "The hospital is comparable to any other hospital of world standards," he says.
Over the years, Dr. Rao has worked tirelessly to raise money "every time funding is required" like during the Kargil war, the Gujarat riots etc. Giving back to the community is something which Dr. Rao has been pursuing passionately over the years.
He attributes his success, both as a surgeon and as a philanthropist, to his wife Ms. Vimala Rao. "She has been of immense support. I could not have achieved all that I have without her." When a team from Sankara Nethralaya interacted with him for this interview, it happened to be his wife's birthday. And how did the couple celebrate it? Yet another donation of Rs. 1 lakh was made to Sankara Nethralaya. No doubt, then, behind every successful man is a woman and behind every successful organisation, like Sankara Nethralaya, are magnanimous and selfless people like Dr. Rao.