News & Events
Sankara Nethralaya raises $200K to restore the Vision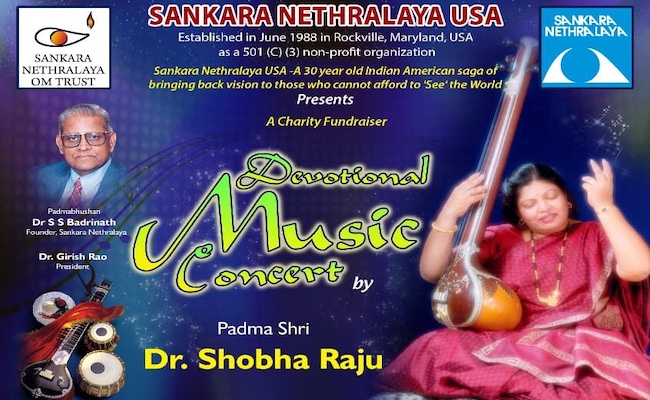 During the pandemic, Sankara Nethralaya OM (Ophthalmic Mission) Trust USA, organised Indian classical dance and music programs online to raise awareness and funds for indigent patients.
Reputed devotional singer, Padmasri Dr. Shobha Raju along with her music team sang virtually on December 20th, 2020 and raised $200K to restore the vision to 3000 indigent blind patients in India.
The year-end Charity concert was broadcasted by major channels:
TV Asia Telugu: https://youtu.be/gjqZsVLRYgs
ManaTV: https://youtu.be/NPJDJSvc3nE
TV5: https://youtu.be/8e0Ch1620A4
SN family thanks the fundraising team, Philanthropists, and community for their unconditional support during these difficult times.
To read the article on Great Andhra.com, please click here:- https://www.greatandhra.com/articles/special-articles/sankara-nethralaya-raised-200k-to-restore-the-vision-109936
Dr. Shobha Raju Concert for Sankara Nethralaya year-end appeal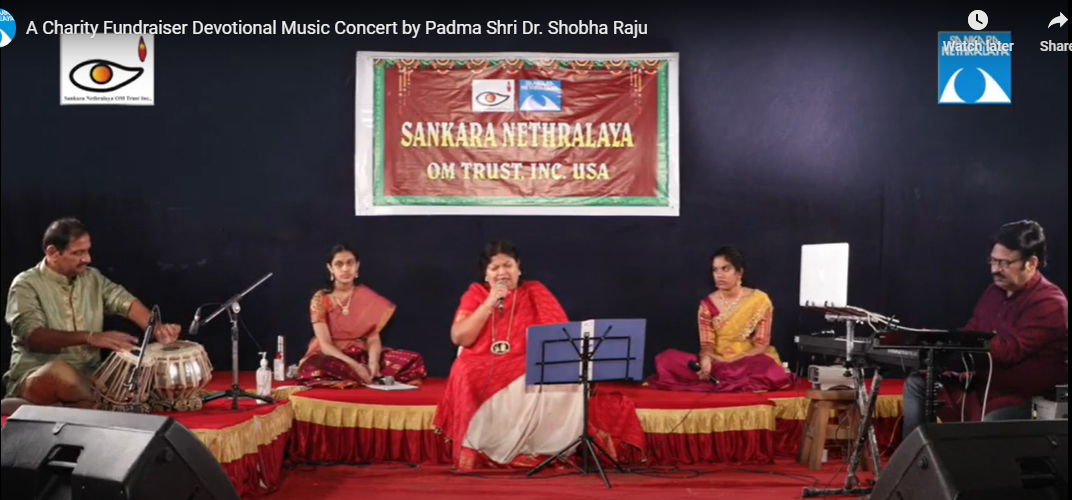 Sankara Nethralaya's year-end campaign was crown by the fundraising program by Padma Shri Dr. Shobha Raju garu on Sunday Dec 20th, 2020. Dr. Shobha Raju, one of the foremost Indian classical musicians, is famed for her repertoire of devotional songs, and is an eminent writer and composer. She is known for her performances of the sankeerthanas of Annamacharya, the 15th-century saint-composer.
The program was telecast live in all major TV channels. Padma Shri Dr. Shobha Raju garu performed soul stirring sankeerthanas in all languages including Hindi and Sanskrit. She also translated the lyrics in English to engage audiences around the globe. Her devotional music concert has raised a lot to help indigent and needy patients. Her concert is still garnering views and raising awareness for poor and indigent patients.
We thank TV Asia Telugu, Mana TV, Sakshi TV, and TV5 for telecasting the live performance and supporting our cause.
View Dr. Shobha Raju's devotional music concert from various TV channels below:
TV Asia Telugu: https://youtu.be/gjqZsVLRYgs
manaTV: https://youtu.be/NPJDJSvc3nE
TV5: https://youtu.be/8e0Ch1620A4
Personally 2020 has been a humbling experience. Even though a global pandemic and the uncertainty it brought for all of us in many ways, we accomplished a lot. Kudos to the Sankara Nethralaya trustees and volunteers across the globe for raising funds to restore the vision to indigent patients in India.
Please use the information below to donate generously:
PayPal link: https://www.paypal.com/us/fundraiser/charity/1769240 (no service fee)
Network for Good: https://donatenow.networkforgood.org/1416458 (3% service fee)
Facebook: https://www.facebook.com/1087426483/posts/10217936504939387/?d=n
Kurai Ondrum Illai : Humble Tribute to Sankara Nethralaya's Frontline Warriors
48 talented vocalists and instrumentalists gave a soulful rendition of Kurai Ondrum Illai song as a tribute to our frontline heroes of Sankara Nethralaya Chennai team.
'Kurai Ondrum Illai' is one of the famous Tamil devotional songs, which was tuned by Shri Kadayanallur Venkatraman, who was a close associate of Shri Semmangudi. Governor General of India Sri C. Rajagopalachari has weaved those beautiful words into an amazing song and popularized by Bharat Ratna M. S. Subbulakshmi amma who has made this lively song divine and immortal with her soulful voice. The song is an expression of thankfulness to the divine without any wants left unfulfilled.
To mention the raagams, the whole song is not based on just one raagam but is a Raagamalika. The pallavi and anupallavi are sung in Shivaranjani while the charanam is rendered in Shivaranjani, Kapi and Sindubhairavi.
All the 48 artists are carefully selected and this project was started in July and completed on Sep 7, 2020. The concept, execution and the direction is by Sowmiya Narayanan, Kamalakiran Vinjamuri and Somanath Dhandibotla. The video, audio, editing, mastering and mixing were done by Somanath Dhandibotla. All the participants are from various states in US.
Many prominent figures from the world of Carnatic classical music gave positive reviews and this Youtube video is getting lot of positive acclamations.
Kalaimamani Sri Unnikrishnan appreciated the efforts of youngsters for arranging a precise orchestration. "Must have been quite a task. Everybody has sung and played very well. In unison. Convey my Best wishes to the entire team," he said.
Sangita Kalanidhi Padma Bhushan Smt. Sudha Raghunathan gave her appreciation and observed, "Wonderful effort ji! Joara paadi vaasitchirka!"
Please watch this rendition at https://www.youtube.com/watch?v=aEdmK49Iyhc
Sangita Kalanidhi Padmasri Vidushi Kanyakumari's Violin Concert for Indigent Patients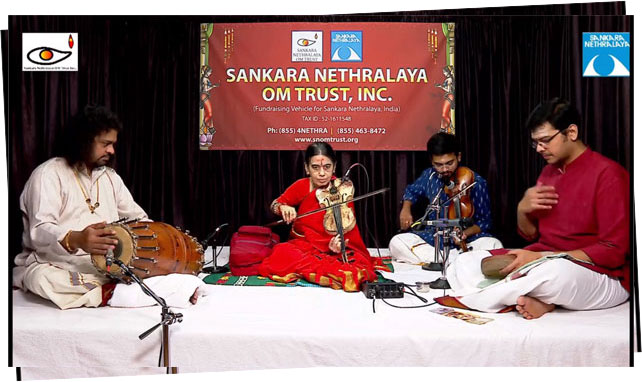 Sankara Nethralaya OM Trust USA organized a live stream event by Sangita Kalanidhi Padmasri Vidushi Kanyakumari -Violin on Sunday, 11th October 2020 at 5:30 PM (EST)| Monday, 12th October, 2020 at 3: AM (IST). Sangita Kalanidhi Kanyakumari was accompanied by Vidhwan Dr. Patri Satish Kumar on the Mridangam, Vidhwan Anirudh Athreya on the Khanjira, and Vidhwan Sayee Rakshith on Violin support.
Patrons immersed themselves in Vidushi Kanyakumari's concert from comfort of their homes. SN OM Trust USA was forced to cancel in person-events in Atlanta GA, Dallas TX, Washington DC, Houston TX, Los Angeles CA, and Pittsburgh PA due to present COVID 19 pandemic conditions and SN OM trust trustees organized online charity concerts to raise funds for bringing sight to poor indigent patients.
SN OM Trust Inc. USA., is Sankara Nethralaya's only fund-raising arm in the USA. We invite you to visit https://www.sankaranethralayausa.org/ to learn more about donating from the USA.
We sincerely thank our supporters Mana TV, TV Asia, Sakshi TV, TV5, TV9, US 1 Television, and Radio TORi for their tireless efforts in telecasting this Classical concert.
Watch Sangita Kalanidhi Padmasri Vidushi Kanyakumari's performance here at https://www.facebook.com/watch/?v=3333933226832359
A Woman of Substance: Mrs. Leela Krishnamurthy, Past President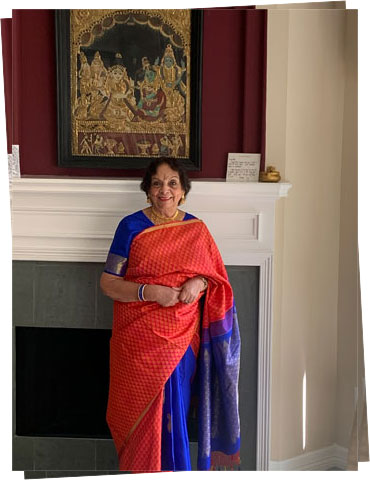 We are pleased to announce that Mrs. Leela Krishnamurthy, past President of Sankara Nethralaya OM Trust, has been nominated as a Woman of Substance, for her work in the local community; the virtual gala will be held on Nov 6th 2020. The money raised at this gala will benefit the Mission of Yahweh, a shelter for homeless families. Mrs. Leela Krishnamurthy is the only woman of Indian origin to have nominated for this award.
Leela Krishnamurthy came to the US to get a master's degree and was offered a full scholarship to do her Masters in Library Science by the Clark University , Atlanta, GA. While at Clark, Leela worked closely with Coretta Scott King at the Martin Luther King, Jr. Center for Nonviolent Social Change.
Leela was recruited by the Los Angeles County Library System and accepted a position as the Head Librarian for the Bell Library. She arranged programs of interest to all library patrons bringing best-selling authors such as Ray Bradbury, Vincent Bugliosi (Charles Manson prosecutor) and brought exotic animals: lion cubs, orangutans, chimpanzee, reptiles and puppet shows. The programs quickly became standing-room only events and resulted in commendations from the Los Angeles County Board of Supervisors, Los Angeles Unified School District Superintendent, Mayor and City Council of Bell and culminating in receiving a key to the City of Bell. In addition, she devoted her personal time as one of the founding members of the Malibu Temple – one of the largest temple in the US. She organized the first-ever fund raising event with Srimathi Vyjayanthimala who was their house guest along with her husband Mr. Bali and their son.
Her husband, Nat was transferred from Los Angeles to Houston and Leela joined the Harris County library system as head librarian at the Barbara Bush Library the largest county library located in Spring, TX. She continued her author's program bringing best-selling novelist Stephen King and others as guest speakers. Later, she moved to become the Research Assistant at Pannell Kerr Forester and was the co-editor of the magazine Trends. Her fundraising activities had a broad range. She organized an event benefitting UNICEF with the famous sitar virtuoso Ravi Shankar. She is a Steering Committee member of the Sri Meenakshi Temple and did a similar fundraiser featuring Sri Ravi Shankar for the temple. She participated in Mayor Bill White's initiative "Expectation Graduation" giving high school students an incentive to complete high school by giving them all the supplies for college including a new computer.
Leela moved to New Orleans where she worked at the Second Harvester Food Bank. Subsequently, at the Children's Bureau as the Director of Development, she hand-delivered a proposal requesting funding for the prevention of domestic violence and abuse to the well-known basketball player Michael Jordan. The proposal was funded by his foundation. She organized a Bharat Natyam dance program to raise funds for The House of Ruth for the homeless. She received a commendation from the Governor of Louisiana, Mike Foster.
Leela returned to Houston and continues to remain active in numerous social programs. As a board member and president of the Indo American Charity Foundation, she facilitated the building of two-homes for Houston Habitat for Humanity's deserving families. Her numerous accolades include: Congressional Recognition from Pete Olson, Easter Seals "Hats Off" to Mothers, and the Top 20 Impact Maker Award from CKW , presented by Houston Mayor Sylvester Turner. She has received numerous awards from Indian associations such as Indo American Charity Foundation, India Cultural Center, Meenakshi Temple Bharathi Kalai Manram, and Telugu Association.
She is currently on the board of UNICEF, and is the past President of Indo American Charity Foundation, Bharathi Kalai Manram and board member of several organizations including Houston Habitat for Humanity.
Sankara Nethralaya Thanks The Kannan Family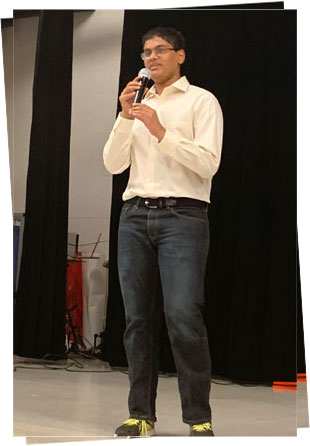 In 2017, a 12 year old boy in Suburban Washington DC in the USA, happened to see a video about Sankara Nethralaya in one of the local fundraising events. The plight of blind people in India and the activities of Nethralaya inspired him so much, he decided to do whatever he could to raise funds. His parents, Amuthan and Vidya, encouraged him to host a fundraiser at the basement of their house in the form of a youth talent show. His friends and family supported his cause and the event raised upwards of $2000.
Encouraged by the success of the previous event, Jay and family hosted another fundraiser in May of 2019. This time the event moved to a local school auditorium as more number of people came forward to support the cause. They raised about $3,000 for Sankara Nethralaya, which funded 46 cataract surgeries for the economically underprivileged in our society.
This year's Charity Night, held on 8th August 2020, is the Kannan Family's fourth annual fundraiser. Due to the Covid19 scare the entire event was virtual. Jay put together a 1 hour 30 minutes show where all participants performed from their respective homes. Whole show was beautifully planned and organized by Kannan family using the Zoom video platform. Over 20 performers of varied age groups from all across the United States showcased their talent. This year's virtual event has raised over $4000 for Sankara Nethralaya's mission to bring vision to indigent blind people. Krishna Raj Bhat, trustee & joint treasurer, SN OM Trust introduced Sankara Nethralaya's mission for vision and thanked the Kannan family – Amudhan, Vidhya, Hari and Jay, for organizing the Virtual Charity Night.
It is heart-warming to see Indian American youth showcasing their talents for the cause of bringing sight to the poor visually challenged people in our Society. Sankara Nethralaya thanks the Kannan family for their generosity in raising money to fight blindness among the poor in society.
The efforts of these young Indians in America to help the visually challenged Indians during the pandemic is truly awe-inspiring. Just $65 goes towards helping a poor Indian receive free cataract surgery and follow-up care. By contributing towards Sankara Nethralaya's mission to bring vision to the poor, you enable one poor blind person to regain their place in society.
Master Rahul Vellal's Charity Fundraiser for the Gift of Sight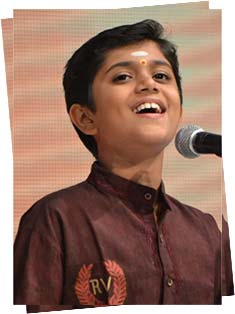 Sankara Nethralaya OM TRUST Inc., a fund-raising vehicle for Sankara Nethralaya, Chennai, organized a Charity Fund-raising Carnatic Classical music live-streamed concert featuring the young prodigy Master Rahul Vellal. The virtual concert streamed live on June 20th, 2020 at 10:30 AM EST USA, and 08 PM IST India.
We thank S. V. Acharya, President Emeritus; Bala Reddy Indurti, President; Moorthy Rekapalli, Vice President; Sudhakar Mattu, Secretary; Krishna Raj Bhat, Joint Secretary; Banumati Ramakrishnan, Treasurer; Sowmiya J. Narayanan, Joint Treasurer; and Leela Krishnamurthy, Trustee, the principal members of SN OM Trust Inc. USA. Their altruistic dedication to bringing vision to the poor and destitute in India is uncompensated and entirely voluntary. Without their selflessness and visionary drive to give back to the Motherland, this virtual fund-raiser would not have been possible.
Even though Sankara Nethralaya's charity fund-raising activities have been curtailed due to the Covid-19 lockdown, Master Rahul Vellal's virtual performance demonstrates how we can come together virtually to raise funds for our less fortunate fellow Indians who need the Gift of Sight.
The young and selfless prodigy was excited to be performing this philanthropic concert and even invited everyone via a short video. He was accompanied by Vaibhav Ramani on the violin, Sunaad Anoor on the khanjira, Vinod Shyam Anoor on the mridangam. The enthusiastic performance from this young child has served to highlight how much Sankara Nethralaya has been able to bring the plight of impoverished visually impaired Indians to the public's attention.
Our work is by no means done! Sankara Nethralaya is a not-for-profit eye hospital, which performs world-quality cataract operations for the poor in rural areas. We are yet to reach many inaccessible villages in the 35 Indian states with our Mobile Eye Surgical Units – not due to lack of enthusiasm but due to lack of resources!
The global pandemic has severely restricted many paying patients coming in for eye-checkups, treatments, and diagnoses. This means that even those poor people who depend on public transport throughout India have been unable to reach us for timely eye treatment & diagnosis. We urge you to consider the plight of helpless blind Indians who need high-quality care and whose only hope to save their eye-sight is Sankara Nethralaya.
Every little bit goes a long way in bringing the Gift of Sight to people who cannot afford expensive treatments.
Prestigious survey by leading international magazine rates SN among the "Best 4 Ophthalmic institutions in the World"!

It came as a global quality certification for an institution with such credentials as 'First ISO certified eye hospital in Asia', accredited by NABH, the highest quality certification for health care providers in the country, rated consecutively as 'Best Eye Hospital' by several prestigious national surveys, when 'Newsweek' the international weekly declared it as one among the 'Best 4 Ophthalmic institutions in the World for year-2020'. The survey was conducted between SeptemberNovember 2019. The evaluation included a survey of discharged patients, recommendations by thousands of experts including leading doctors, hospital managers and other health care professionals, some of the key parameters taken into consideration were patient experience, both in relation to a specific treatment undergone and overall feel and Medical KPI (Key performance Indicators) on critical areas like quality of treatment and hygiene levels. The jury consisted of a team of highly distinguished health care professionals from the world's leading research, academics and clinical care centers from a diverse background consisting of experts in IT usage in health care, outstanding clinicians, researchers, health reform champions, thought leaders, patient safety and engagement experts, pioneers in health care innovation and experts in operating non-profits. This gave the evaluation a holistic approach, taking all the above parameters into consideration.
The global acknowledgment making Sankara Nethralaya the only ophthalmic institution in India to be featured in the world's best league, comes as a matter of great pride to every member of the SN family and a befitting tribute to Dr SS.Badrinath, the visionary and pioneer who founded the institution 4 decades ago, on the 4 pillars of world class clinical care,focused research, quality teaching and training initiatives and community care and above all as a transparent, ethical institution run on the principles of love and service.
Past President of the SN OM Trust and her life partner in service honored as '20 Top Impact Makers'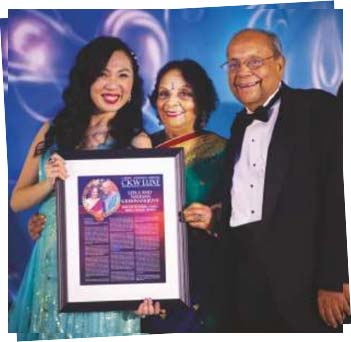 We take great pleasure and pride in sharing that Mrs Leela Krishnamurthy, Past President - SN OM Trust, Member UNICEF and Houston Habitat for Humanity and her husband Mr Nat Krishnamurthy, well known philanthropist and CEO of Sunitech were honored as 'Power Couple' and '20 Leading Impact Makers' for their significant giving back to society endeavors through their charity, combined effort and initiatives in serving humanity through alleviation of pain and bringing relief and joy to the suffering.
The Sankara Nethralaya family and the SN OM Trust where she serves as a member, convey their hearty congratulations to the noble couple and wish them many more years of good health, happiness and God's grace to do what they enjoy doing most 'Serving Humanity'
Amazing local talent matches virtuoso performance to make music the language of love!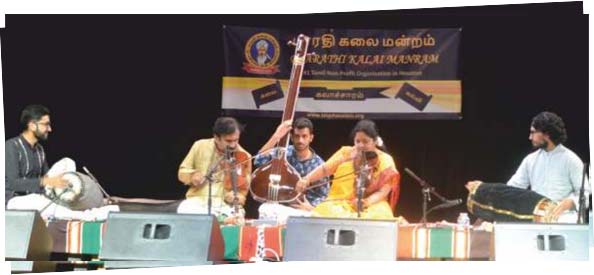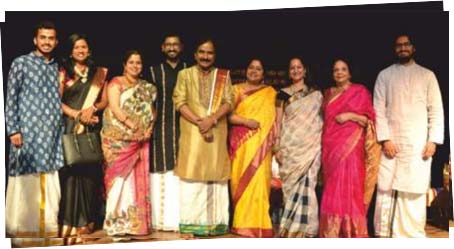 Sankara Nethralaya OM Trust's Houston chapter and Bharathi Kalai Manram, (BKM- Houston), its long time partner in service came together once again to present a scintillating year end(2019) fundraiser concert by none other than the renowned Lalgudi violin duet of Sri Lalgudi GJR Krishnan and Smt Lalgudi Vijayalakshmi. The concert was a soulful journey through a wide variety of ragas and compositions, with highlights including Mamava Meenakshi in Varali, Sogasuga Mridangam Talamu in Sriranjani and Saint Thyagaraja's masterpiece O Rangasayee in Kambhoji. They were accompanied on double mridangam by Sri Akshay Anantapadmanabhan and Sri Rohan Krishnamurthy. It was inspiring to see the young mridangists, brought up in the USA, performing on par with the senior violinists to make it a truly memorable concert. The concert helped in creating awareness on Sankara Nethralaya's yeoman service to the indigent vision impaired and the major role in its endeavors played by the SN OM Trust, its awareness creation and support mobilization arm in the US. Sankara Nethralaya thanks the BKM and the volunteers for organizing the wonderful concert and rasikas for attending the event in good numbers and supporting the cause.
Sankara Nethralaya Seattle Chapter raises 25K with Microsoft Give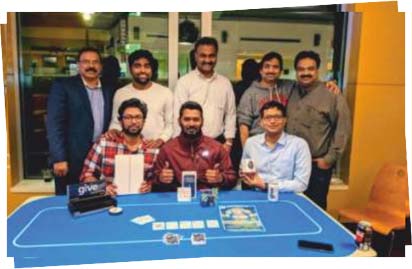 During the Month of October Microsoft celebrates Giving Campaign. In this noble cause almost all the employees of Microsoft donate in various ways to support 1000's of non-profit organizations across the globe. Giving Campaign is done across all parts of the globe and their respective possible ways.Microsoft matches 100% of the donation and also volunteer hours during this month to promote philanthropy across the organization. This Year (2019) Sankara Nethralaya debuted as a part of this festival of giving. Volunteers inside and outside Microsoft came together in this noble cause to generate donations through a Poker Event conducted across this month. With Microsoft Matching and volunteer hours from the Microsoft Full-timers the event was able to Generate close to 25K which will in turn lead to close to 380 surgeries for patients with curable blindness. Sankara Nethralaya Seattle-Washington trustees Vishwanath Manchikalapati & JayaKiran Pagadala ex-Microsoft employees joined hands with Soma Jagadeesh, Madhu Babu Mallidi (Current Volunteers) and other volunteers to successfully conduct this Event. Bala Reddy Indurti (President) flew in from Atlanta to grace this event and support in all possible ways.