News & Events
Sankara Nethralaya conducts a high level exploration on the clinical applications of Nanotechnology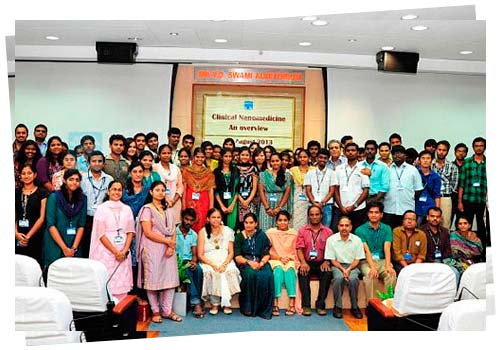 A high power symposium on the use of Nano Technology in clinical care was held at the Sri VD Swami auditorium, Sankara Nethralaya Main campus on the 2nd & 3rd of August 2013. Welcoming the gathering of over 63 participants pursuing research/ higher studies in Nano technology, Advisor to Vision Research Foundation, Dr.Rama Rajagopal, gave an interesting genesis of the Vision Research Foundation and how its research activities had grown in scope and volume over the years. She observed that Nano Technology applied clinically would play a critical role on precise targeting of cancer cells and would go a long way in cancer treatment visa-vis the ill effects of Chemo therapy adding that Nano Technology, when extended to patient care and infection control, had a key role to play.
Speaking on the occasion Dr.S.Krishnakumar, Deputy Director – Research, and Head of the Nano-Biotechnology department, Vision Research Foundation, elaborated on the current departmental research activities on targeting drug delivery to treat Retinoblastoma, Melanoma, usage of Gold Nano particles and SERS imaging and work on Aptamer conjugates for radio imaging, in association with IIT and Missouri University.
The honourable dignitaries Dr.Raghuraman Kannan, Associate Professor, University of Missouri, Columbia, Adjunct Faculty, Sankara Nethralaya, Dr. Nripen Chanda, Sr Scientist, CSIR-Central Mechanical Engineering Research Institute, Durgapur, Dr. Anandhi Upendran, Director of Research, Nanoparticle BioChem, Inc., Columbia, Missouri, Adjunct Faculty, Sankara Nethralaya, Dr.Dhananjay Dendukuri, CEO & Co-Founder, Achira Labs, Bangalore were honoured with mementos.
Inaugurating the Clinical Nano Medicine symposium over video conferencing from the Jawaharlal Nehru Centre for Advanced Scientific Research, Bangalore and delivering the Plenary lecture, distinguished scientist and Linus Pauling Professor, CNR Rao, commended Sankara Nethralaya's research work, particularly on Nano technology as a pioneering effort. He observed that Nano technology had tremendous scope in research and development, patient care and other applications. Prof.Rao highlighted that globally, several research activities, on Nano tubes, analogues, graphites, artificial photosynthesis, and super capacitors are being carried on and suggested that Sankara Nethralaya should take leads from them for translational purposes.
The two day symposium packed with critical lectures and interactive question and answer and practical sessions by eminent speakers on various branches of Nano technology concluded with the distribution of certificates to the participants, upbeat and jubilant at the immense knowledge gained at the symposium.
Sankara Nethralaya observes 120th Mahaperiyava Jayanthi with great piety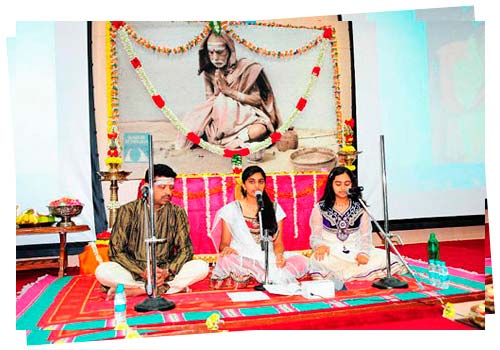 The institution which owes its inception and growth to the Mahaperiyava's benevolence and continued guidance and blessings observed his 120th Jayanthi with great reverence and piety on 19/07/2013 at the Sri V.D. Swami Auditorium
Extending a warm welcome to the gathering Shri S Viswanathan, DGM, Optical Services highlighted the essential qualities to be imbibed by man for his good 'Lowgika' or worldly existence by the great spiritual master in very simple terms. He spoke on how the Guru stressed on simple things like learning to do one's own cooking to washing one's own vessels, rehabilitating cows through Goshalas and setting a good personal example. On a more personal note he shared his own experience of how the Seer's advise put an end to all ambiguity on what higher studies he should pursue after his schooling and how the guidance of the Seer made him select Optometry at the ESO, an institution blessed by him and how the wheel has gone a full circle and blessed him with the opportunity of addressing the audience on the Guru's Jayanthi celebrations. Shri Viswanthan introduced the trio of Shri S.N.Prabhu, Trustee, OM Trust and his daughters, Ms Shruthi Prabhu and Ms Sahana Prabhu, the family's sterling role in raising significant funds for Sankara Nethralaya in the USA through their mellifluous voice and their devotion to the Mahaperiyava which made them perform at his Jayanthi. Their high devotion to the Sage was apparent in the ensuing vocal presentation by the father and daughters which took the audience to another world with the divine rendition of songs on the Mahaperiyava.
Speaking on the occasion Dr. R. Krishna Kumar another ardent devotee of the Mahaperiyava and Principal of the Elite School of Optometry spoke on the functioning of the ESO as a socially accountable institution producing not only competent but also socially accountable optometry professionals. He highlighted the yeoman community work carried out by the ESO, declaring with pride that the ESO has screened, treated and provided glasses to more than 50, 000 children in the districts of Chennai, Tiruvallur and Kanchipuram highlighting that a key feature of these camps was the providing of unbreakable glasses to the children. Shri Krishna Kumar had a high word of praise for Professor Santhanam's role in underlying the importance of occupational optometry and how the ESO was providing specialized eye care needed for different occupations right at their place of work. He commended the role of Shri NDJ.Renganath, Member, TTD Trust and long time well wisher and friend of Sankara Nethralaya in bringing the institutions together and the great work done by the Sri Srinivasa Sankara Nethralaya. He highlighted the high utility value of the LogMar charts installed by the ESO at various temples and parks of the city and its plans to install Bengali LogMar charts at the Aditya Birla Sankara Nethralaya and other SN Centers at Kolkata to benefit Bengali patients.
The occasion witnessed the recognition and awarding of Optometrists Ms Vijayalakshmi, Ms Rizwana and Ms Anuradha for their high quality work, by Dr T.S. Surendran, Vice-Chairman and the members of the Optical services department adjudged as the best performing department by Dr Kris Vasan, Managing Director, Sankara Nethralaya. The day's proceedings came to an end with an emphatic appeal by Dr T.S. Surendan to the Almighty "May the Light and Vision Spread far and Wide", followed by Mangala Aarthi to the Sage and Seer and distribution of Prasadam to all assembled.
An informal chat with Shri SN.Prabhu, Trustee, OM Trust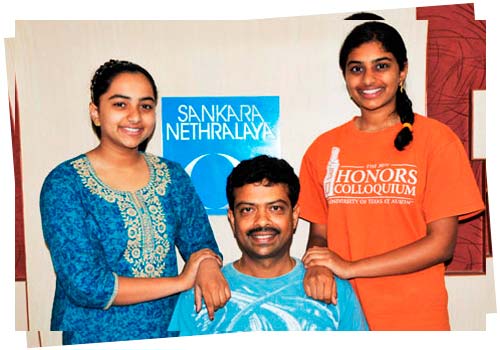 Sankara Nethralaya Ophthalmic Mission Trust member Shri SN. Prabhu more popularly known as Singer Prabhu on a visit to India with family dropped in at Sankara Nethralaya where he would be giving a music performance with daughters Shruthi and Sahana on Mahaperiyava Jayanthi on 19th July 2013. The Corporate Communications department engaged him in a quick Q&A session, which we take pleasure in sharing with our readers.
1. Please give a brief introduction about yourself, how you were drawn to singing and how you came to be known as 'Singer' Prabhu?
I am a singer by passion; I did not undergo any formal initiation or training in singing under any guru. My father was a sangeetha vidwan and bhagavathar giving kutcheris at Trichy and Tanjore, I use to accompany him as a toddler and sit on his lap while he performed, I guess this must have been an early influence and inspiration on me. Even in those days he would sing for charitable causes which sowed the seeds that I should use my talent for noble causes. I started singing from the time I was in grade 6 and honed my skills as I moved on to college, as an employee of the external affairs ministry I won the inter ministry competition held in New Delhi. After moving to the USA I would as a singer well versed in singing in Hindi, Tamil, Malayalam, Telugu and Kannada accompany legendary singers like Dr.KJ Jesudoss, Smt Susheela and veteran music directors like Shri M.S.Viswanathan and Shri Deva etc when they tour the country, which earned me the nickname 'Singer' Prabhu.
2. How were you drawn towards Sankara Nethralaya and the OM Trust?
I had, in keeping with my belief of leveraging the power of music as a vehicle to create awareness and raise funds for noble causes been giving charity performances and mobilizing funds for the Cancer Institute and relief organizations like Asha, CRY and the Sankara Eye Foundation. I would say that my daughter Shruti was largely responsible for my association with Sankara Nethralaya. The eye ailments and resultant suffering of my mother and sister had left a deep impact in her and she began to make a quest in right earnest as to how we could serve the visually impaired, especially those who could not afford quality eye care. It was after a lot of research and speaking to people that she decided that Sankara Nethralaya was the right institution through which we could fulfill our promise to the visually impaired and thus began my family and my association with Sankara Nethralaya and the SN OM Trust.
3. Do you have any particular reason to choose to perform at the Mahaperiyava Aradhana?
Well I can only say one thing as an answer to this question, we owe our existence and all that we have to his benevolence, can there be a better reason than that, it is my great privilege, pride and punya that I have been given this opportunity to perform with my daughters in such an auspicious occasion and receive the blessing of the God who lived among us and I express my deep gratitude to Dr SS.Badrinath for this rare opportunity of being a part of this great function.
SN OM Trust Booth at the TANA 2013 Meeting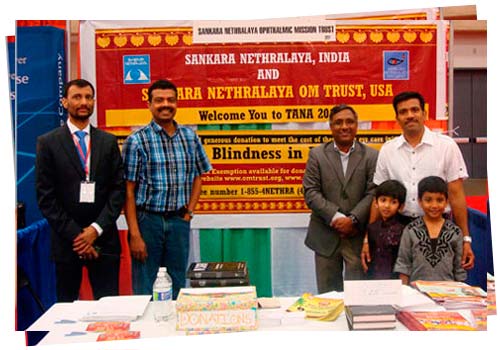 As a fund raising body ever exploring new avenues to spread awareness on the Sankara Nethralaya philosophy, its goals and achievements and raise funds for its community initiatives, the Sankara Nethralaya OM Trust realized that the Telugu Association of North America (TANA) congregation slated to take place at Dallas would be an ideal platform to reach out to the Telugu community living across North America and Canada. They quickly got their act together by coordinating on one hand with the organizers of the 19th TANA convention on the modalities of setting up a booth and distributing publicity material at the venue and ensuring that the necessary materials are ready on time, by actively interacting with the creative team at Sankara Nethralaya.
The booth set up and collaterals in place as scheduled, the SN OM Trust members from the Dallas region Shri Suresh Dalapathy who played a key role in facilitating SN OM Trust's participation in the event, trustee Shri Prabhu Sivaraman and volunteers Shri Venantius Anthony, Shri Mohannath, Shri Sridhar Vasudevan and Srimathi Sukanya Vasudevan presented themselves enthusiastically at the OM Trust booth at the Dallas Convention Center on the 24th of May 2013, the inaugural day of the 19th TANA Convention. The booth was designed with an emphasis on showcasing Sankara Nethralaya's activities at Andhra Pradesh, especially the newly inaugurated Sri City Sankara Nethralaya at Tada, near Sulurpetta at the Tamil Nadu Andhra border and the Mobile Surgical Bus.
The booth witnessed a good footfall, the brand recall and familiarity of Sankara Nethralaya were evident in the interaction that the visitors had with the OM Trust members and volunteers manning the stall. The Trustees and volunteers manned the booth in turns on the three days of the convention between the 24th-26th of May, welcoming visitors, handing over the flyers and brochures, briefing them on the various activities of Sankara Nethralaya and the critical need to support its endeavours. Prominent among the visitors were long time friends and supporters of SN OM Trust from the Dallas Area, Shri Nani Iswara the senior software professional and Vani Iswara the founder of Ellora Center for Performing Arts. There were spirited enquiries from the visitors on areas like student observership and other avenues through which they could associate and assist Sankara Nethralaya in its various activities. The Twin Surgical Bus and the recently inaugurated Sri City Sankara Nethralaya at Tada evoked great interest among the visitors.
While the event did not translate into significant monetary benefit, it provided a great opportunity and meeting point to interact with the members of the Telugu community, spread awareness and identify potential well wishers and donors among them. The members of the Sankara Nethralaya OM Trust would be pursuing these promising contacts and leads through the good offices of the Telugu Association of North America (TANA) and the Chittoor NRI Association and exploring how their good will and confidence could be leveraged to bring about tangible real time benefits to the Sankara Nethralaya's community initiatives back in India.
Small Acts of Kindness – 2013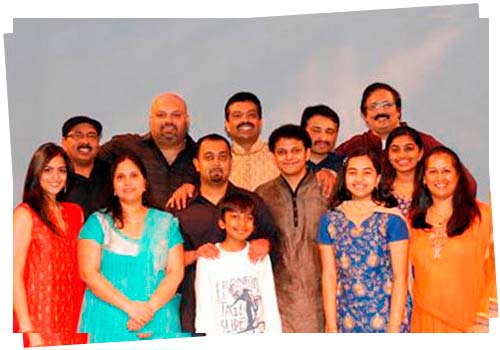 When a good-natured notion transforms into a valiant process, it is impossible to match. When a thoughtful idea turns into an insightful project, it is impossible to fathom. When a good intention becomes a remarkable action, it is indeed impossible to describe. It was exactly this that was done during the "Small Acts of Kindness-2013" performance for Sankara Nethralaya on March 30th, 2013 in Dallas, Texas.
As a sequel to the first "Small Acts of Kindness" program that took place in October 2011 in the Dallas-Fort Worth Metroplex, this year's performance was targeted at a broader variety of people, hence the programme included songs in Malayalam, Tamil, and Hindi. A highly talented group of music lovers and performers –Prabhu Shankar, Manoj Krishnan, Shruthi Prabhu, Sahana Prabhu, Anjali Varghese, Sumithra Prabhu, Aarthi Giri, and Sankara Nethralaya OM Trustee – "Singer" Prabhu–joined together this time around to make this program a huge success. The singers were accompanied by yet another exceptional group of performing musicians–Joe, Shino (from Chicago), Isaac & Eugene—who truly entertained the ecstatic crowd of about 200 people who gave reviews that were never less than astounding.
Incorporating songs such as "Oru Murai," from Mani Chitra Thaazhu, "Deewangi Deewangi," from Om Shanthi Om, and "Nenjukulle," from Kadal, the lively, bubbly crew put together an unforgettable performance that never failed to get the crowd on its feet, asking for more. The program was described by a plethora of spectators as "incredible," "one of the best concerts of the year," "astoundingly lively & interesting," & "memorable."
The "Small Acts of Kindness-2013" effort collected a net sum that could assist to the tune of about 65 free surgeries at Sankara Nethralaya- Chennai, India. There was a multitude of other magnanimous volunteers from the Metroplex that assisted in the smooth conduct of the event.
If anything is certain from this event, it is the fact that this will not be the last effort of this multitalented group of people. Dedication goes a long way, and most definitely, there will be many more wonderful performances in the months and years to come to entertain the DFW crowd and other cities to assist Sankara Nethralaya in Chennai.
OM Trust spreads the spirit of compassion in Southern California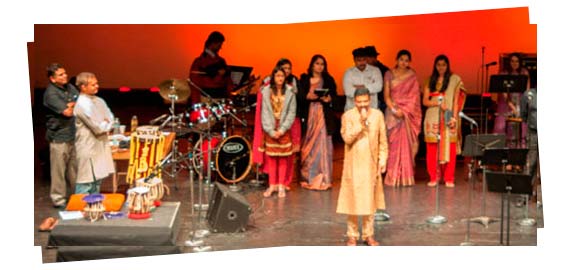 Through a single act, a life can be changed. Through a single operation, a world can be opened. And through a single program, a chain of good deeds can begin.
These were the thoughts floating through the minds of those who organized and performed in the light music program for Sankara Nethralaya in Los Angeles on January 12th, 2013. SN OMTRUST joined hands with the Southern California Tamil Association (SOCAL) and presented "Jan'il Jollee" a Tamil Light Music program, by FUN MuzikLovers, RiffsNRaagas, TREAT and Sangamam. From Texas were special guests "Singer" Prabhu and his daughter, Shruthi Prabhu, who had performed for Sankara Nethralaya in the past.
The program started on an auspicious note with a Ganesha Pooja by founder of SOCAL, Shri Padmanabhan Iyer and a brief introduction by Shri Subbu Shanmugam, the president of SOCAL. Shri Santhanam Mullur a trustee of SN OM Trust gave a brief introduction to the objectives and activities of the Sankara Nethralaya OM Trust and explained the noteworthy service being provided by Sankara Nethralaya towards vision care to indigent patients in India and made an emphatic appeal to support cost free eye care to the needy through donations. The musical event by FUN MuzicLovers – Balaji, opened with the song "Mukunda Mukunda" by the kids Amruthaa & Rumeya, followed by many songs with "Vision" as the underlining theme.
The response to this program was indeed great. This was a first time event for Sankara Nethralaya in Southern California, and helped greatly in creating awareness on the noble objectives of the charitable organization in this region. The song, Ovvoru Pookalume, was rendered by Ms Shruthi Prabhu after an informational video presentation on the activities and background of Sankara Nethralaya. The theme of the entire concert touched the hearts of all the attendees as well as entertained them with the wide variety of Tamil songs that were rendered. Feedback from the crowd was overwhelmingly positive and indicated that Jan'il Jollee has helped, Sankara Nethralaya gain another city of supporters.
Sankara Nethralaya has been offering vision care for the poor and needy for the past thirty five years. Whether it be in America or in India, vision is critical for a human being. Being deprived of eye care due to lack of financial resources is a pity. People have to recognize this and contribute to this noble cause. Volunteers of Sankara Nethralaya, SOCAL and the performers from California and Texas put their hearts and souls into effectively communicating this message to the audience and promised to continue their support to this wonderful charity in the days to come.