News & Events
Eye screening camps at Tiruvallur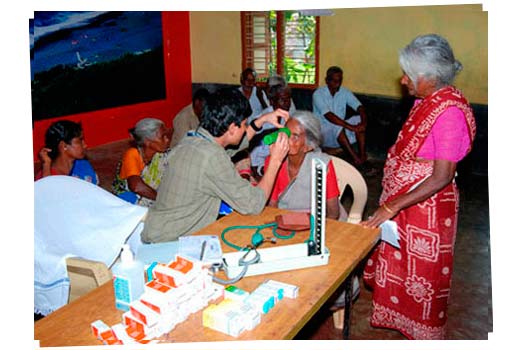 As part of its Corporate Social Responsibility initiatives, Michelin Tyres joined hands with Sankara Nethralaya to conduct three eye screening camps in Tiruvallur district. A total of 599 people underwent a basic vision screening at the camps held at Sengarai village (September 18), Karadiputhur village (November 13) and Karadiputhur village (December 12). One hundred and two people were identified with vision-related problems. Forty-six people were taken to the base hospital for further ophthalmic evaluation, 23 underwent surgery and 128 were provided with spectacles. The costs for the surgery and spectacles were borne by Michelin Tyres.
Mr. V. Sivakumar, Administrator, Jaslok Community Ophthalmic Centre lauded Michelin's efforts in successfully conducting the eye camps. "Efforts such as these from corporate bodies will go a long way in ensuring that health care services reach out to all sections of society," he said.
'Natya Drishti', leaves audience spellbound
'Natya Drishti', a well-choreographed Bharatnatyam performance by students from the Ellora Centre for Performing Arts, was presented in Dallas-Forth Worth, Texas, US, on October 24, 2010, in aid of Sankara Nethralaya.
The theme — "Vision-A Gift from God"— was in conjunction with Sankara Nethralaya's mission for vision and was presented by twenty-five children from the Ellora Centre under the able guidance and choreography of their guru Smt. Vani Ishwara. The troupe presented dances depicting the grace of Lord Shiva and the lives of his devotees including Kannappa Nayanar.
The audience of about 350 people was left enthralled by the outstanding performance by the artists. Sankara Nethralaya's founder and Chairman Emeritus Dr. SS Badrinath and his wife Dr. Vasanthi Badrinath also participated at the fund-raiser.
Dr. Badrinath spoke passionately on the current and future growth, research and philanthropic activities of Sankara Nethralaya in the field of eye care in India. He, along with Dr. Vasanthi, expressed their gratitude and encouraged the audience to donate towards the cause of Sankara Nethralaya. Their presence and interaction with the artists, guests and volunteers was a great source of inspiration and encouragement.
Sankara Nethralaya alumnus Dr. Arvind Neelakantan, a practicing Glaucomatologist in Dallas, while praising the institution for its Ophthalmology training and focus on Community Ophthalmology Programs, urged the gathering to donate to SN OM Trust and thereby support Sankara Nethralaya in its fight against blindness.
On behalf of Sankara Nethralaya, Dr. Badrinath and Dr. Vasanthi Badrinath presented plaques to Smt. Vani Ishwara and the child artists who performed during the event, for their support to Sankara Nethralaya. The dance program was organized by Mr. Suresh Dalapathy and Mr. Santhanam Mullur, Trustees of Sankara Nethralaya OM Trust, a fund-raising vehicle in the US for Sankara Nethralaya, Chennai, with support from local volunteers.
SN OM Trust receives CFC recognition for 2011
Sankara Nethralaya OM (SN OM) Trust has been approved as a Combined Federal Campaign (CFC) participant in 2011 by the US Office of Personnel Management (OPM). SN OM Trust has been participating in CFC for the past several years.
CFC is a drive by the US Office of Personnel Management encouraging US federal employees to donate to various non profit charities pre-screened by them. Every year a booklet is published of the pre-selected charities whom federal employees are encouraged to donate as a one-time contribution or through payroll deduction. Employees can start or make changes in contribution only during the 'open season', which for 2011 is open now through December 13, 2010.
The CFC number for Sankara Nethralaya OM Trust is 68803.
If you are a US federal employee, kindly designate Sankara Nethralaya OM Trust (Number 68803) as your chosen charity. If you know of a federal employee, kindly motivate them to designate SN OM Trust - no. 68803 - as their chosen charity. Various local CFC chapters will collect funds and remit to SN OM Trust periodically.
For further information on the CFC program, please contact
Mr. SV Acharya
E-mail: acharya@snomtrust.org
Ph: (301) 529-7377
Helen Keller Remembrance Day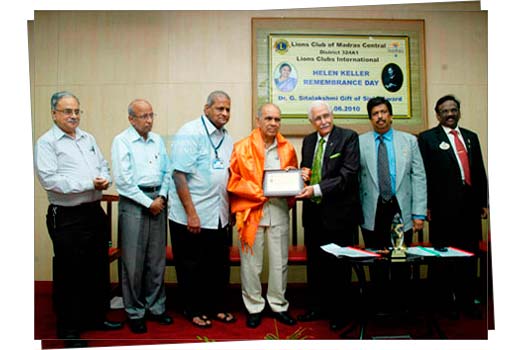 The annual Helen Keller Remembrance Day awards saw doctors, hospitals and social service organisations being honoured for their contributions in the field of ophthalmology. The event was held at Sankara Nethralaya on June 3,2010.
This year's 'Dr. G Sitalakshmi Gift of Sight Award' was presented to Dr. Leila Mohan, Comtrust Eye Hospital, Calicut. The award is given to a corneal surgeon who is rendering selfless service in the field of cornea grafting.
The 'I (Eye) Care Award,' instituted to recognize eye hospitals which render humane and high quality eye care to the poor and under privileged free of cost, was given to the Lions Club of Karimnagar Charitable Eye Hospital, Karimnagar (Andhra Pradesh), the RR Lions Eye Hospital, Palakol (Andhra Pradesh), the Paediatric Ophthalmology Department, Sankara Nethralaya (Chennai), the Tulsi Rural Development Trust (Chennai), Sankara Nethralaya, Rameswaram.
There were six recipients to The 'Knight of Blind Award' including doctors, paramedical staff and social workers.
Chief Guest Lion Dr. Ashok Mehta said the awards would serve as a great source of encouragement for awardees to continue with their outstanding work in healthcare.
Remembering Helen Keller as a role model, Chairman Emeritus, Dr. SS Badrinath urged doctors and students to imbibe qualities of patience and perseverance — traits which helped Helen Keller and her teacher Anne Sullivan overcome all adversities. The dignitaries lauded the services of Lion Hari Narayanan in oraganising the function.
Super Speciality Camp at Kenya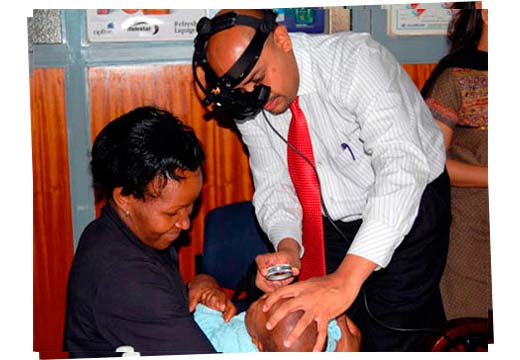 As part of a joint collaboration between the Rotary Club of Chennai Galaxy, Lions Club, and Sankara Nethralaya, a team of super specialized doctors from Sankara Nethralaya conducted an eye camp at Nairobi, Kenya from May 20 - May 27, 2010.
Over 1000 patients requiring specialized ophthalmic care were examined. The team of doctors performed procedures like prophylactic retinal lasers and operated upon complicated cases in Oculoplasty and Vitreo Retina. A total of over 25 prophylactic lasers were performed. The Oculoplasty team performed almost 55 complicated and skilled procedures.
Dr. Rashmin Gandhi, Consultant, Neuro-Ophthalmology, who led the team, performed complicated phacoemulsification cataract surgeries and delivered an invited talk for a local group of ophthalmologists.
The camp was a great clinical experience for the doctors as they witnessed complicated cases in their respective specialties. Dr. Bipasha Mukherjee, Director, Orbit, Oculoplasty & Trauma, Dr. Shubra Goel, Associate Consultant, Orbit, Oculoplasty & Trauma and Dr. Pukhraj Rishi, Associate Consultant, Vitreo Retina were also part of the team.
Rotarian Mr. Karikalan and Lion Mr. Hari Narayanan also participated at the week-long camp.
For the entire team, the opportunity to make a difference in the lives of so many was a truly rewarding experience.
Unnikrishnan benefit concerts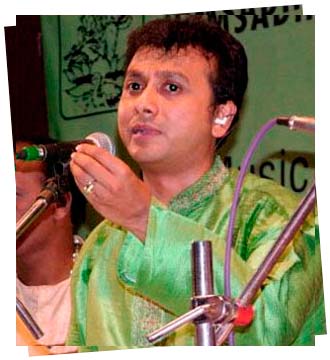 Leading Carnatic classical vocalist P. Unnikrishnan performed a series of benefit concerts, in aid of Sankara Nethralaya, Chennai, in the US in May 2010. About $50,000 was raised through the benefit concerts; the amount will be used towards Sankara Nethralaya's community services, including free cataract surgeries for indigent patients. The concerts were organized by Sankara Nethralaya Ophthalmic Mission Trust, USA.
San Jose, May 16
Event coordinator: Varsha Upadhye
The first of the benefit concerts commenced at the CET auditorium, San Jose, California on May 16. Mr. Unnikrishnan, along with Mr. Embar Kannan (Violin) and Mr. Arjun Kumar (Mrudhangam), mesmerized the audience with a soulful performance interspersed with ragas and bhajans.
The three-and-a-half-hour performance also included individual performances by Sri. Embar Kannan and Sri. Arjun Kumar, much to the delight of the audience. The support from the media (sulekha.com, sivajiTv.com, India Currents, Psymphony Radio) as well as organisations like SIFA (South Indian Fine Arts, Bay Area) and INDUZ in promoting the concert was deeply appreciated by one and all.
Earlier on, Mr. Alagiri, Manager, Resource mobilization, Sankara Nethralaya spoke eloquently about the many achievements,initiatives and activities of the SN OM Trust.
Washington DC, May 22
Event coordinator: Ramarao Mysore
After an outstanding performance at San Jose, Mr. Unnikrishnan and his team next headed to Washington DC where they enthralled audiences at the Sri Siva Vishnu Temple. The audience went into raptures on the exceptional display of talent. Mr. Unnikrishnan, Mr. Embar Kannan and Mr. Arjun Kumar accommodated spontaneous requests from the audience.
SN OM Trust also held a screening of 'Future Vision' – a documentary capturing the phenomenal growth of Sankara Nethralaya and showcasing its initiatives and future projects.
Atlanta, May 23
Event coordinator: Dr. Seshu Sarma
The last leg of the concert took the artists to the Hindu Temple, Atlanta, where they performed to a packed audience. The artists were at their musical best as they captivated the audience with some of their most popular renditions.
SN OM Trust was able to successfully organise the concerts due to the overwhelming and unconditional support received by numerous volunteers including, Dr. Preeti Chitgopekar Ms. Laxmi Achar, Mr. Ashok Kumar, Mr. Sundararaghavan, Mr. Ram Mallappa, Mr. Bobby Nayar, Ms. Madhu Iyer, Ms. Uma Narayan and Ms. Maya Nair, SN OM Trust President, Mr. Shankar Iyer, SN OM Trust Treasurer S.V. Acharya, SN OM Trust Trustee K.G Venkataraman.
Atlanta Fundraiser For Sankara Nethralaya OM Trust
Management Guru C K Prahalad Passes Away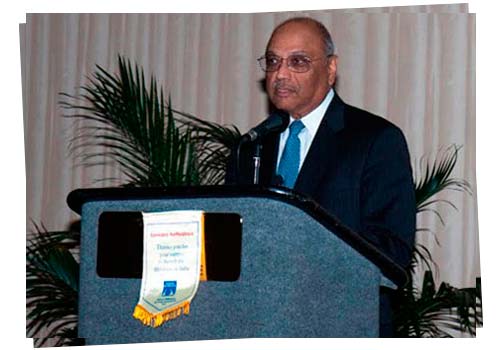 Coimbatore Krishnarao Prahalad, one of the world's most influential management thinkers and Distinguished Professor at the Ross School of Business, University of Michigan, passed away on April 16, 2010 in San Diego, US, after a brief illness.
French Mathematician and Philosopher Blaise Pascal had once said, "Man's greatness lies in his power of thought." And it is this power of thought, which made Prof CK Prahalad stand out from the rest. Whether as a corporate consultant, author or management guru, Prof. Prahalad played a vital role in shaping the growth of numerous companies. He was known to adhere to good corporate governance and ethical standards.
In his untimely death, Sankara Nethralaya has lost a truly remarkable supporter of Nethralaya's mission for vision.
The Sankara Nethralaya family is indebted to Prof. Prahalad for his unconditional support to the institute. On October 14, 2009, Prof Prahalad very graciously delivered the "New Age of Innovation: Driving Co-Created Value Through Global Networks" management power lecture at Dallas, US, in benefit of Sankara Nethralaya, Chennai. The event was was organized by Sankara Nethralaya, Sankara Nethralaya OM Trust, US, and the Greater Dallas Indo-American Chamber of Commerce (GDIACC).
The lecture, which was attended by senior corporate executives and management professors, helped raise about $ 18000 through which around 278 cataract surgeries were performed, free-of-cost, on indigent patients.
Apart from being the leading cause of preventable blindness, Cataract also adversely affects the livelihood of many — especially the economically weaker sections in society — who are forced to quit their jobs due to poor vision. Prof. Prahalad's selfless deed has removed the cloud of uncertainty from the lives of many and replaced it with a ray of hope. They say that deeds, not stones, are the true monuments of the great. For the Nethralaya family, the deeds of Prof. Prahalad will forever be etched in the minds and hearts of all at Sankara Nethralaya.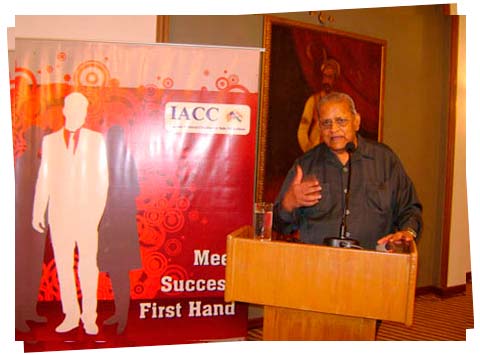 As part of the 'Meet Success First Hand' series, aimed at highlighting successful first-generation entrepreneurs, Chairman Emeritus Dr. SS Badrinath spoke on Sankara Nethralaya's road to success.
Organised by the Indo-American Chamber of Commerce (IACC) on April 29, 2010, Dr. Badrinath shared with the gathering the genesis of Sankara Nethralaya, the institute's growth and achievements.
While elaborating on the various steps taken by the institute to achieve excellence in all fields, including medical, academics and research, Dr. Badrinath said the underlying goal was to ensure that Sankara Nethralaya served as a role model for healthcare delivery in India.
The 'Meet Success First Hand' series gives IACC members an opportunity to hear, first-hand, from entrepreneurs their success stories.
Indian Bank extends support to Sankara Nethralaya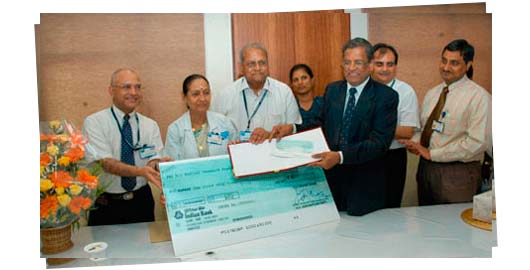 As part of its Corporate Social Responsibility Initiative, Indian Bank — a leading nationalized bank — has come forward with a munificent donation of Rs. 1 crore towards Sankara Nethralaya.
Indian Bank (Chennai) Chairman and Managing Director Mr. M.S. Sundara Rajan, who presented the cheque to Chairman Emeritus Dr. SS Badrinath on March 15, 2010, lauded the "customer- centric attitude" adopted by the institution as well as the "mind-boggling number of cases the institute's dedicated team of doctors attend to."
Appreciating the Indian Bank's magnanimous gesture, Dr. S.S.Badrinath, said "it means a lot to us, as every rupee is channeled towards the well being of the needy. We are grateful to all our donors who propel our mission of serving the poor and reaching out to people who do not have access to medical facilities."
The donation will be directed towards supporting the services of the second floor of the main consultation block (MAHYCO) located at Sankara Nethralaya's main campus. The second floor houses the Glaucoma, Neuro-ophthalmology and Glaucoma diagnostic services. Every day about 200 people are seen on this floor.
A plaque was unveiled by Mr. Sundara Rajan on the occasion.
Sankara Nethralaya activities hailed
The Hindu, March 16, 2010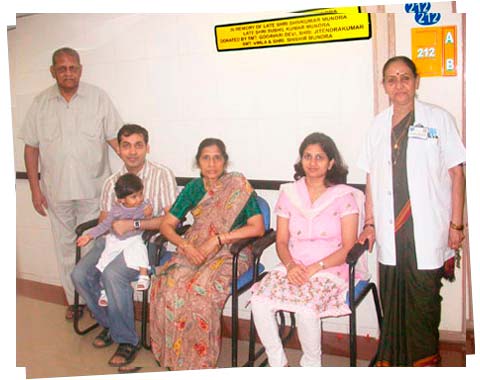 Vimla Mundra (centre) and her family along with Chairman Emeritus Dr. SS Badrinath & Dr.Vasanthi Badrinath
Coming from the little-known city of Seohara in Uttar Pradesh's Bijnor district, Vimla Mundra brought to Chennai not only her embroidery skills but also her compassionate spirit.
Having been introduced to Sankara Nethralaya by a relative, Ms. Mundra's initial association with the institute was restricted to spreading word about the hospital's quality and affordable eye care services among friends and relatives. This small step would pave way for a bigger one in the early 1990s, when she joined SWAN — Sankara Nethralaya Women Auxiliary — as a volunteer. And there has been no looking back since then. Like any other SWAN volunteer, she has helped the institute in various capacities.
"Extremely satisfied" by the time spent at Nethralaya, the people she meets here and the opportunity to serve others, Ms. Mundra and her family recently donated Rs. 5 lakhs towards dedicating a room in the memory of her father-in-law Shri. Shiv Kumar Mundra, and her husband Shri. Sushil Kumar Mundra. This is not the first time the SWAN volunteer, and her family, is donating to Sankara Nethralaya. "The work Nethralaya undertakes is commendable and we consider ourselves fortunate that we are able to help in our small way."
Nethralaya is deeply grateful for the thoughtful and benevolent gesture from the Mundra family.
Rededication of Clinical Laboratory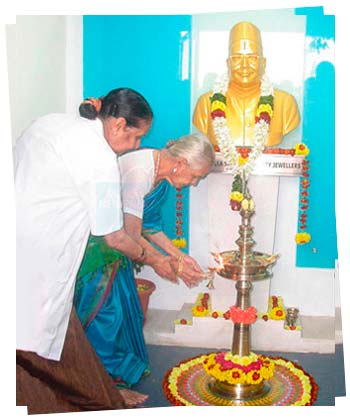 Smt. Sulochana Amma and Dr. Vasanthi Badrinath, Director, Clinical Laboratory, Sankara Nethralaya, at the rededication of the Sri. Nathella Sampathu Chetty Clinical Laboratory on December 31, 2009
Following its renovation, the Sri. Nathella Sampathu Chetty Clinical Laboratory was rededicated by Smt. Sulochana Amma, wife of (late) Sri. Nathella Sampathu Chetty Garu, on December 31, 2009 at Sankara Nethralaya.
Smt. Sulochana Amma lighted the traditional lamp following which she and her family were shown around the refurbished clinical laboratory facility. A detailed document listing the activities and achievements of the clinical laboratory was presented to the Smt. Sulochana Amma and her family, who donated Rs. 1 lakh to SWAN (Sankara Nethralaya Women Auxiliary) on the occasion.
Screening & Counselling for Senior Citizens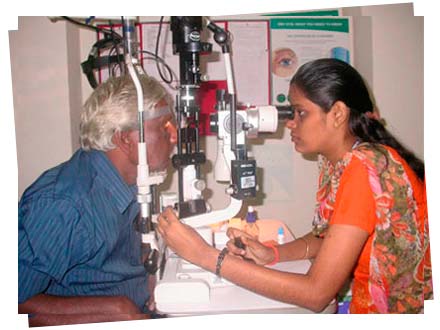 Owing to public demand, Navasuja Sankara Nethralaya conducted a screening and counselling for senior citizens (above 60 years) on December 27, 2009. Around 100 people were screened and counseled and 74 people were referred to undergo further medical examination.
All those who came were tested for distance & near vision. Apart from checking the eye pressure, a slit lamp examination was also conducted. People were made aware of their eye conditions and were given eye care tips.
Navasuja Sankara Nethralaya had earlier screened and counseled 137 persons on September 20, 2009. The screening and counselling was undertaken to commemorate World Elders' Day (October 1).