"Music for Vision: Give the gift of vision to the indigent" was the theme of the evening for the audience gathered at Irving Arts Center, Irving TX as a part of the "Music for Vision live concert by Padma Vibhushan Dr. KJ Yesudas" hosted by SN OM Trust Inc, USA, established in June 1988 in Rockville, Maryland, USA as a 501 (C) (3) non-profit organization with a sole objective to support Sankara Nethralaya (SN), Chennai, India, a comprehensive eye care center for providing free eye care of international standard to indigent patients in the Indian sub-continent.
Highlights of the "Music for Vision" live concert by Dr. KJ Yesudas
1. This event generated funds to support over 800 cataract operations: 'The Wall of Vision' unveiled
It was a sold-out event and generated funds to support about 800 cataract operations for the indigent individuals with vision impairments. About 150 sponsors contributed to 85% of the net proceeds and the response from the community was overwhelming. 'The Wall of Vision' which showcased all the sponsors became a center of attraction in the lobby and served as a backdrop for many Kodak moments. "This Wall of Vision will inspire many donors for a noble cause and it is my privilege to unveil this foundational building block" quoted Dr. Reddy Urimindi, member of the SN OM Trust from Dallas during his opening remarks.
2. The power of the legend's voice
The power of the legendary voice of Dr. KJ Yesudas unified the people of all religions, regions, languages and brought them under a single umbrella. There was a pin drop silence during the entire three- and half-hour mesmerizing program. Everyone in attendance walked away with a great sense of satisfaction. Dr. Yesudas performed to the tune of public pulse irrespective of the background or language of the individuals.
3. Enhanced Brand Recognition, Education and Awareness of the Sankara Nethralaya Mission and Programs
The much-needed clarity about brand, education about the mission and operations of Sankara Nethralaya were delivered to the community. A variety of marketing channels were established for the first time to inspire and promote the event. Structured marketing tools, such as, animated banner ads on web portals, content-centric radio clips, video marketing, social media and commercial television channels were leveraged to reach the critical mass. Both traditional and non-traditional means of 'connecting' community groups contributed to this unprecedented success.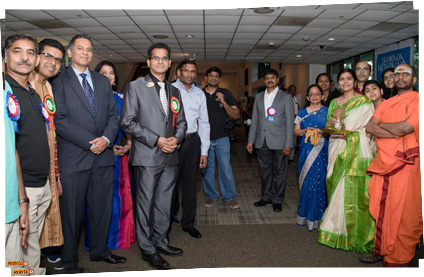 4. Engaged and Empowered Youth take active part in the event: Connect with the next generation
Over a dozen middle school and high school students from the local community were involved in the eventday operations. The Irving Arts Center trained these individuals to serve as ushers and other roles to welcome and direct attendees at the entrance and lobby. Thanks to Shanthi Gunna of Flower Mound Irving Indian Centennial Lions Club (aka FMIIC Lions Club)who coordinated the youth team exclusively to serve as ushers for the evening. Other youth served at the registration and lobby areas.
5. Dedicated Volunteer Teams fortified to serve at the current and future events
Several groups of dedicated volunteers were identified in advance and were given specific tasks at the backstage, registration, ticket processing, audio, lobby areas and contributed to the flawless execution of the event and received commendation from the audience.
6. Organization 'Connected' with public and witnessed overwhelming support of the event
Donors who contributed via online for this event received the beneficiary information well in advance of the event. "We have never seen this level of transparency when we donated money to other charitable organizations. Here we can see who got the benefit immediately" quoted many individuals who contributed to this event. Thanks to the Four-Star rating of SN OM Trust, the highest rating ever possible by the Charity Navigator, major charity assessment organization that evaluates charitable organizations in the United States.
7. A memorable evening to remember for a long time: Enthralled audience and mesmerized crowd is the outcome
Spectacular display of colorful decorations of the lobby and stage by Lucky Charms gave a warm welcome to the music lovers. Within minutes the lobby filled with crowd provided an ideal ambience for social interactions and photo opportunities. The festive mood prevailed throughout the evening as the attendees slowly started trickling in.
8. Sankara Nethralaya USA gave a grand welcome to the legend
Dr. Yesudas was given a grand traditional welcome with 'Poorna Kumbha and Vedic chants' after the audience were seated. Rajeswari Udayagiri served as the master of ceremonies for the evening and extended a warm welcome to the attendees. In his opening remarks, Dr. Reddy Urimindi shared his experience of bringing the sponsors, volunteers and the attendees together under one roof for the noble cause and appreciated the opportunity to serve one of the best organizations.
9. The new Mobile Surgical Unit project for Telugu speaking States got a boost,thanks to Andy Asava
Andy Asava, Dallas-based successful high-tech entrepreneur is one of the key pillars of this event and served as a Lonestar sponsor to support the new Mobile Eye Surgical Unit (MESU). This effort is in the initial stages of planning to procure a new MESU to serve remote areas of Telangana and Andhra Pradesh and surrounding areas. "We are lucky to have so many opportunities in life to gain wealth and success, and it is time to give back to our community in India, especially those indigent individuals requiring basic needs" quoted Andy Asava.
10. Introduced a new Adopt-A-Village sponsor, thanks to Anand Dasari and Chinta Murali of Sankalp
Anand Dasari, Dallas-based Founder and COO of Colaberry and Chinta Murali, both patrons of Sankalp Foundation of Anathapur (AP) came forward to support the Adopt-A-Village program and volunteered to serve Gotluru village in Dharmavaram, Ananthapur district of Andhra Pradesh. "I am thankful to many individuals who contributed to my success and helped me to reach this stage and it is time for me to give back to my own people and adopt-A-Village is a great start" expressed Anand Dasari.
11. Felicitation of the Artists
In addition to the legend Dr. KJ Yesudas, Rajeev Mukundan on Violin, TS. Nandakumar on Mridangam, our own Board of Trustee Sowmiya Narayanan on Ghatam, Rasikapriya Krishna and Rathipriya Krishna on the Tambura provided a comprehensive and divine musical experience to the gathering. All of the artists were felicitated by the sponsors in traditional Indian style with a bouquet of flowers and shawl.
12. So many people to thank for this unprecedented success
Thanks to all the sponsors for their generosity, dedicated volunteers for their commitment, music lovers who attended the program, media partners for their excellent coverage and promotion, restaurant owners who offered space and food, and the staff at the Irving Arts Center.
S.V. Acharya, President Emeritus is a constant source of inspiration, and Bala Reddy Indurti, President is a guiding force offering the right checks and balances to ensure everything is on track, Dallas-based Trustees Suresh Dalapathy, Nani Iswara for event-day assistance and Chennai team for promotional help.